How Does Bread Get Black Mold?
A loaf of bread is tempting to eat—until black mold is noticed growing within it. Bread can develop black mold relatively quickly, which is why it is important to consume the food product within five to seven days. Here's a look at how bread develops black mold.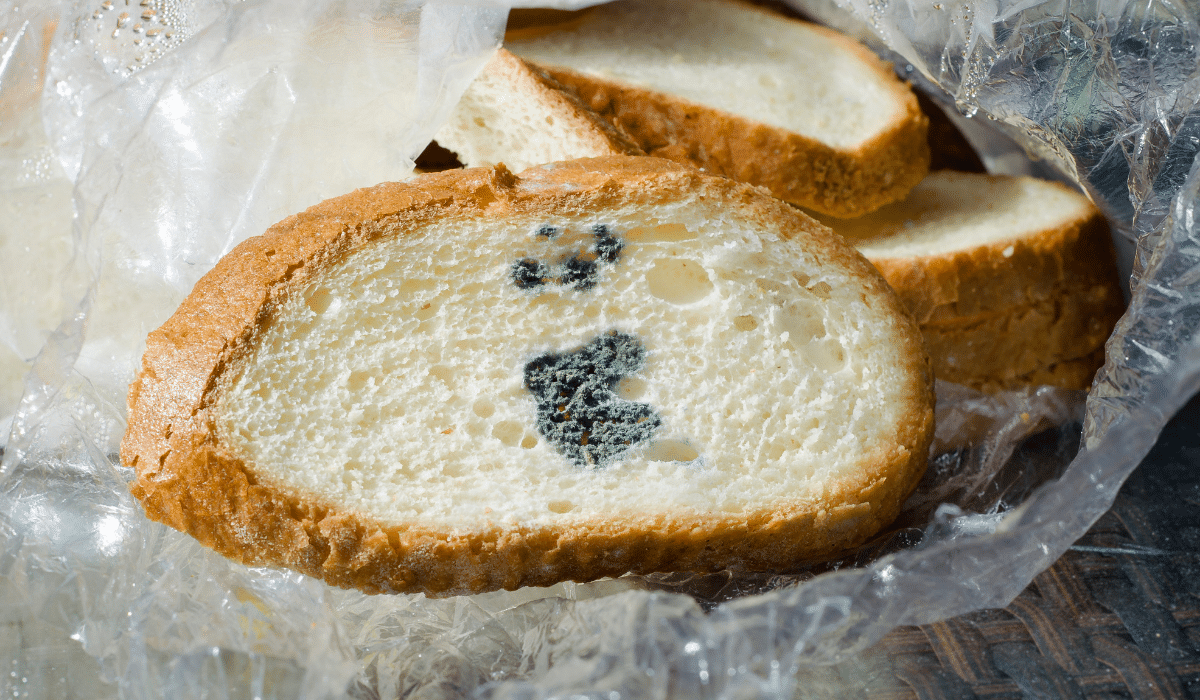 What is mold?
Similar to mushrooms, mold is a type of fungus. Although mold spores resemble tiny plants, they are neither plant nor animal. Rather, mold is a living organism that feeds off of decaying matter, such as rotting wood or even food, like bread.
Mold spores are nourished by three food sources: moisture, organic matter, and oxygen. Damp areas are notorious for harboring mold colonies, since they provide a constant supply of moisture that steadily feeds the spores. Organic matter, too, provides nutrients to mold spores.
How does black mold grow on bread?
Bread molds are known to colonize different types of breads. The sugar and carbohydrates contained within loaves of bread offer ample supplies of nutrients to the spores. These rich organic materials can spur mold growth within a short span of five to seven days.
The species of mold that develops on the bread depends on the type of spores that linger in the immediate environment. One common mold that affects bread is Rhizopus stolonifera, also known as black bread mold. This type of mold grows everywhere on the planet.
Moist conditions are ideal for the growth of black bread mold. Due to this reason, black bread mold will grow on wild fruits and vegetables, too. As the mold consumes the organic material, it causes rotting. Black bread mold is known to even kill plants.
As it starts to grow on the surface of bread, black bread mold appears as velvety blue or green patches. When the bread is left untouched for days, these unsightly blue and green patches develop centers that are noticeably black and splotchy—hence its name, black bread mold.
How quickly does black mold grow on bread?
Exposure to moisture and air can trigger black bread mold growth. Organic white bread does not contain preservatives, which means black bread mold will grow on these loaves the fastest. When left at room temperature and exposed to moisture, white bread can develop mold in five days.
The speed at which black bread mold grows on loaves also depends on the acidity of the bread and its moisture content. Most breads are non-acidic and contain a pH level of seven. Sourdough bread has a higher acidic level in comparison to white bread, so mold develops more slowly.
Bread may seem dry, but it actually contains a large amount of moisture. Moisture from the inside of baked bread travels to the outside. The crust may become noticeably softer, for instance. When storing bread in a plastic bag, the moisture will be evident; and mold growth can occur.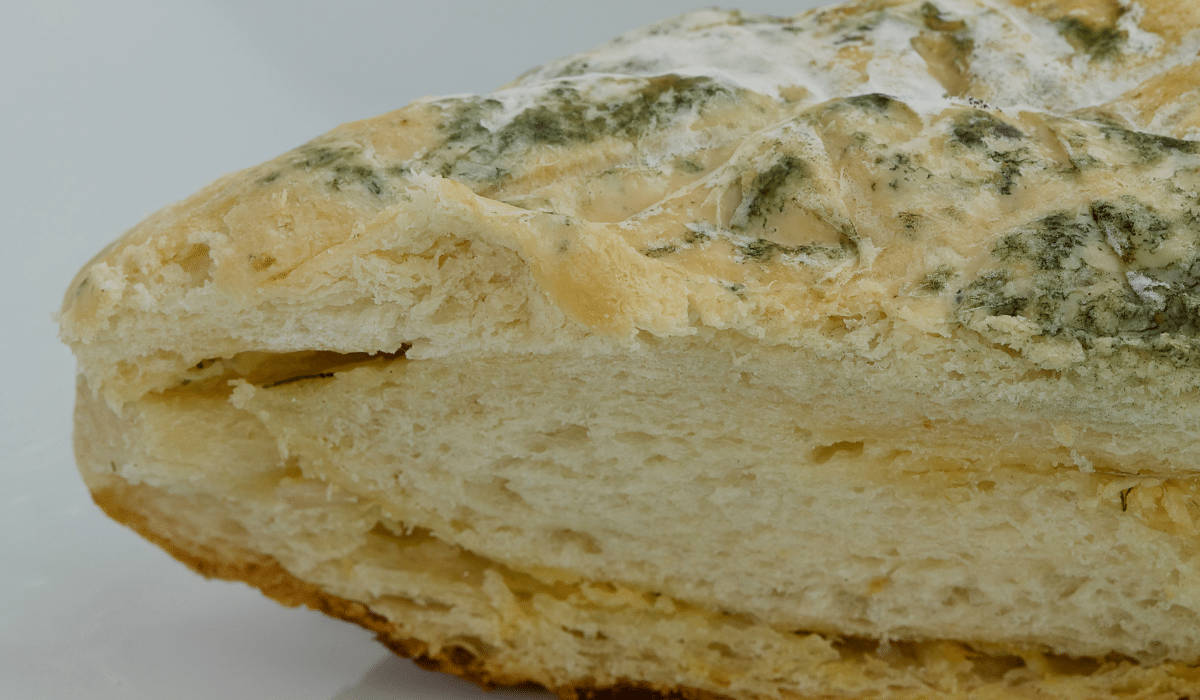 Furthermore, the temperature at which the bread is stored plays a large part in how fast a loaf will develop black bread mold. Leaving a loaf of bread exposed to moisture and air will invite a flurry of mold spores, especially considering that mold thrives in humid environments.
A room temperature of 86 to 98 degrees Fahrenheit can spur certain types of mold growth. However, storing bread in the freezer at 32 degrees Fahrenheit will stop the chances of mold growing on the loaf. In fact, freezing bread prevents mold growth altogether.
Is eating black bread mold harmful?
Taking a small bite out of a moldy slice of bread is generally not harmful. However, severe reactions can develop in individuals who are allergic to mold. Upon inhaling the spores, the mold can trigger respiratory issues, especially in people suffering from asthma or immune diseases.
Consuming larger amounts of bread contaminated with black bread mold can cause severe illness. An individual who ingests a large amount of moldy bread can experience an upset stomach and be exposed to mycotoxins. Mycotoxins are harmful when inhaled or eaten, potentially causing fatigue and rashes.
When noticing black bread mold, it is wise to discard the entire loaf. Mold spores are microscopic and difficult to detect until they grow into larger clusters. Mold can also grow deep roots without detection; so, avoiding sickness to varying degrees is best done by throwing out the moldy bread.
Bread mold can also generate unpleasant odors when left in trashcan inside the house, read How to Remove Odors from the Trash Can for proper soultions to remove the odors.
How is black bread mold prevented?
As previously mentioned, freezing bread prevents mold growth. Additionally, consume the bread within two to three days—before mold has a chance to grow. Avoid slicing the bread, which accelerates the rate of spoilage. Also store the bread in a dry bread box or paper bag to reduce moisture buildup.
Mold colonies are notorious for spreading rapidly, which is why it is important for homeowners to immediately address a mold problem. You must call a professional that provides quality mold removal services to residential homes and commercial properties.
Professional mold cleanup technicians use high-tech equipment to locate all mold growth within the property. Upon finding both hidden and visible mold growth, they contain the areas to prevent contamination to other parts of the building. Using advanced methods, specialists eliminate all mold growth.
Structural materials may be permanently damaged by the mold colonies. Mold removal technicians also provide restoration services to affected areas and remove components that are beyond repair. A key part of mold remediation is to fix the moisture source that triggered the mold invasion.
Delays in stopping a mold invasion can lead to structural damage to building components. Mold spores eat away at organic materials, including drywall, causing the weakening of building materials. Health problems, from itchy skin to watery eyes, can also develop in the building's occupants.
When you need help to remove a mold problem, call a professional for skilled mold cleanup techs to ensure your building is mold-free.