Prepare for a Boiler Emergency with These Safety Tips
Industrial boilers are an important source of heat and energy for facilities in a wide range of industries from the hospitality industry to manufacturers and gas companies.  There are many different types of boilers available that produce heat through combustion, steam generation, or trapping excess heat from other activities.  Each type of boiler is a complex machine that consists of hundreds of working parts that operate under an incredible amount of stress.  It is only a matter of time before one of the parts malfunctions and causes the boiler to go out of service.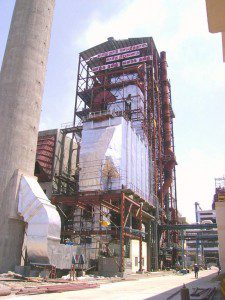 If a boiler malfunctions, your business may lose time and money and your facility may experience damage from leaking water or fuel.  The spilled hot water or fuel can also put your employees at risk of injury.  The inevitability of a boiler malfunction makes it crucial to take important safety precautions and prepare for the possibility of a malfunction so you can resolve the issue quickly and reduce your losses.  If a boiler malfunction causes damage to your facility, do not hesitate to call a professional that can provide commercial damage restoration services.
You can effectively prepare for a boiler emergency to prevent property damage and injury with these safety tips.
External Boiler Connection: Most boilers, including water boilers and steam boilers, are installed in an enclosed area as a safety precaution. However, this usually means that the emergency connections are in a hidden or hard to access spot.  Installing external emergency connections that are easy to access will allow you to quickly unhook your malfunctioning boiler and connect a temporary boiler.
Backup Plan for Fuel: Boilers that run on natural gas can also run safely on propane and #2 fuel. Make sure you keep a supply of one of these fuel types handy in case you run out of your normal fuel or experience damage to the fuel line.
Establish an Emergency Shutdown Procedure: Make sure your company has a procedure in place for emergency shutdowns. If the boiler is not shut down properly, the damage can become worse.
Create Lockout-Tagout Procedure: Once a boiler is shut down, it must be tagged so that other employees know not to restart it. The employees that carry out the emergency shutdown should be responsible for tagging it and making sure that it is left alone until the issue is resolved.
Establish Emergency Evacuation Plan: It is possible for a boiler malfunction to create an emergency situation in which evacuation is necessary. You must create a detailed emergency evacuation plan and have maps of the evacuation routes in your facility so your employees know where to go.  It also helps to practice the evacuation plan with drills.
Boiler malfunctions can happen at any time so make sure you take these precautions as soon as possible so you are ready for an emergency.  If your boiler malfunctions and must be shut down, make sure you contact a professional that can provide rental boilers for temporary power.  Any damage to your facility caused by spilled water or gasoline can be restored by commercial disaster restoration professionals.
More info: https://indeckindustrialboilers.wordpress.com/2017/04/13/boiler-emergency-safety-tips/