Are Hurricane Rated Windows Bullet Resistant?
If you reside in an area that is prone to hurricanes, then not only is it essential to safeguard your home by installing hurricane rated windows, it's also necessary. Otherwise, you put your home or business at risk of suffering severe damage from the various forces of a hurricane.
What makes hurricane windows unique and important is their ability to better withstand the forces of a hurricane.
When a hurricane strikes, water will cause a significant amount of damage, but the harm that high-speed winds can cause should not be ignored. At a minimum, hurricanes will produce 74 mile-per-hour winds. Knowing this, you'll want your residential or commercial property to be equipped with hurricane windows. Not only can these windows withstand hurricane-level wind speeds, but they can handle the force that any debris creates when making contact with the window. Standard windows cannot provide you, your family, your staff, your home, or your business with this level of protection.
While hurricane windows' ability to provide protection against such a natural disaster is well known, people are also curious about whether these windows are bullet resistant. This is an understandable thought, because it's only natural to want to get the best value for something. But this question can especially be a concern for those individuals who fear for their safety and security and for residents in high-crime areas.
Refer to the following information to learn more about hurricane rated windows and their features, bullet-resistant windows, how such windows are tested for effectiveness, and how these windows compare in terms of protection.
What are hurricane rated windows?
As aforementioned, hurricane rated windows are windows specially designed to withstand and provide protection against the forces of a hurricane. What makes them different from standard windows is their construction. Hurricane windows are made of numerous sheets of laminated glass. Upon impact, laminated glass stays intact and does not shatter.
With at least 74 mile-per-hour winds, a hurricane will blow various kinds of debris at your property with a great amount of force. This isn't as much of a concern if your home or business has hurricane windows, because their design allows them to handle such impact. Furthermore, this design also means that, if the window glass pane were to break, it wouldn't leave behind numerous pieces of glass, which would pose as a safety hazard.
What are bullet-resistant windows?
Bullet-resistant windows are windows that provide protection against projectiles. When referring to bullet-resistant windows, it's technically incorrect to refer to them as "bulletproof windows." This is because, for them to truly be bulletproof windows, the glass used would be impossible to look through due to how thick it would need to be.
This type of window can be constructed with either laminated glass, such as is with hurricane rated windows, or with solid acrylic. If bulletproof windows are constructed with laminated glass, the sheets used are typically thicker than the ones used for hurricane windows, because the thicker size provides more effective protection against bullets and other projectiles. Furthermore, when a bullet comes into contact with a bullet-resistant window, the glass absorbs the bullet's energy.
How are the effectiveness of hurricane and bullet resistant windows tested?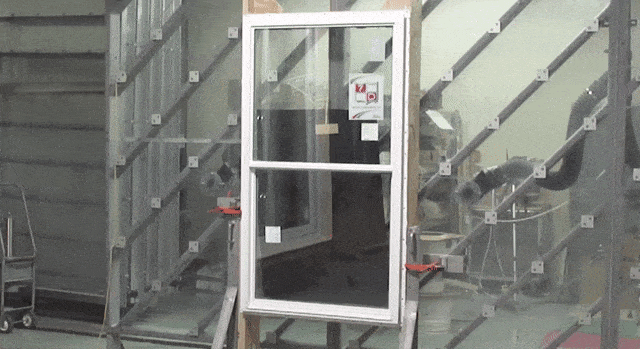 When testing the effectiveness of a window, professionals use impact testing, which is also known as missile testing. During such tests, scenarios are created to mimic the environment the window will be facing. For example, when testing how much protection a hurricane rated window will provide, the window is placed in an environment that mimics hurricane conditions. This testing allows manufacturers to establish the amount of impact certain hurricane windows can withstand. This then allows customers to be informed of such features, giving them the ability to purchase the windows that best fit their needs.
Are hurricane rated windows bullet resistant?
Hurricane windows can be bullet-resistant, but not all hurricane windows will necessarily be able to withstand the force of bullets. Whether hurricane rated windows are bulletproof varies from situation to situation. The thickness of the glass plays a significant role in whether hurricane windows also double as bullet resistant windows, because thicker glass stands a better chance at handling a bullet's impact better.
Purchasing Hurricane Windows
If you live in an area where hurricanes are common but you only have standard windows, then you should upgrade to hurricane rated windows. These windows can be costly, but it's your best bet for protecting your home or business and ensuring your and others' safety.
If you'd like for your hurricane windows to also be bullet resistant, then you need to be specific about which particular hurricane windows you want. In such a case, look to purchase windows made with thicker glass panes. The glass's thickness plays an integral role in handling the force of bullets.