8 Home Items You Should Replace or Repair this Spring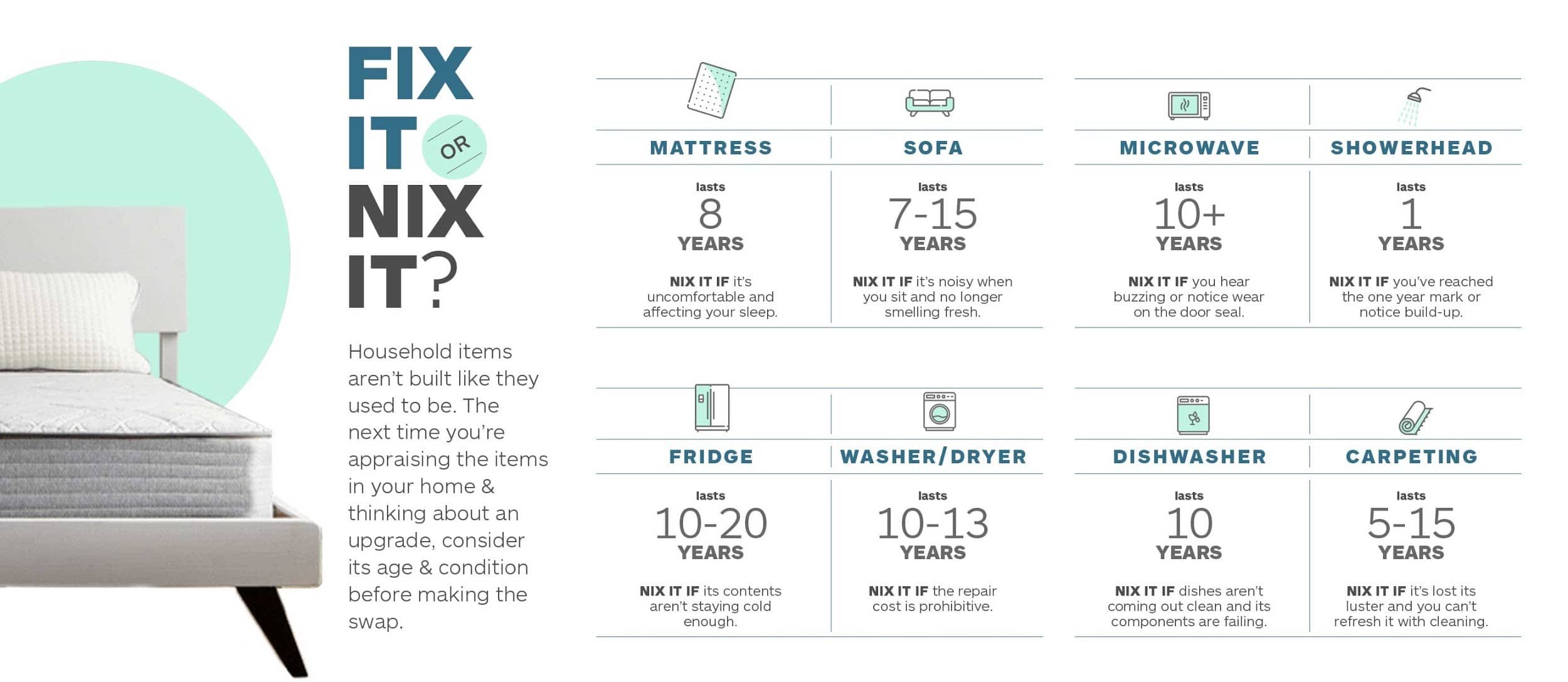 It's officially spring! That means it's time to stop procrastinating and start your annual home deep-cleaning projects. Whether your list and/or actual projects are large or small undertakings, there are certain things we should all look at with a little more scrutiny. If you need some help, there are always professional residential cleaning services available for hire.
In the meantime, as you make your spring-cleaning list, go around your home with a critical eye. Specifically, look at your home items; believe it or not, they have a lifespan. If they're looking a little drab, or just aren't working the way they used to, you should take the item's individual lifespan into account before you decide to fix it or just replace it. Here are some of the home items you should replace or repair while spring cleaning:
1. Mattress
Your bed is one of the most important places in your house. Getting a good night's sleep is critical to your overall health and well-being. Making sure your mattress is up to the task is essential. The first thing to consider is its age. Mattresses will last for about eight years, anything older than that should be replaced.
You should also consider replacing your mattress if it's showing considerable signs of wear and tear. Namely this means looking for sagging, lumpiness or simply discomfort while sleeping. If you have a mattress with springs, you should also listen for any squeakiness. Overall, listen to your body. If you notice that you're waking up with more muscle stiffness or worsened allergies, then that is a sign it's time to replace your mattress. In the meantime, maintain your mattress's cleanliness by using a cover or dusting it with baking soda to draw moisture out and vacuuming it up after some time passes.
2. Sofa
The living room is one of the most frequented areas of the home. It's the place where you relax after a long day, watch television and entertain guests. With all this in mind, think about how much use your sofa gets. A recently purchased sofa has a lifespan of seven to 15 years. Since there is a decent gap in time, whether you should repair or replace depends on the issues you detect.
It could be time to consider replacing your sofa if you detect unsettling smells in the upholstery that aren't resolved after cleaning. Also consider this if you hear squeaking, popping or creaking sounds when someone sits. If your sofa's on the newer side consider taking preventative measures or fixing anything that's needed. Keep it out of the sun as much as possible to avoid cracking and fading. For any stains, use warm and soapy water as soon as possible for cleanup. You should also frequently vacuum the upholstery, including under cushions, to keep things clean.
3. Microwave
Especially for young adults, microwaves are one of the most used kitchen items. Thankfully these will last an average of ten years. Still, their frequency of use and electrical nature means that you should pay close attention for signs that there's trouble ahead.
Regular maintenance and cleaning will make sure you're getting the most life out of your microwave. Besides paying attention to the interior, also look at the buttons and door. If you notice any discrepancies, make sure to address them immediately. Otherwise, when utilizing your microwave, listen for out of place or louder than normal buzzing sounds and ensure the door is sealing properly as these are signs it's time for a replacement.
4. Showerhead
Perhaps the most shocking household item lifespan is that of your showerhead. This rarely thought of item should be replaced every year. By getting a new showerhead annually, you're helping keep yourself and your family healthy. The inside of your showerhead is the perfect place for bacteria and disease-causing germs to reside. Once you turn your shower on, those cells come blasting out, and if you're in the shower they will go on to you.
Prevent this by replacing the showerhead every year, getting in the shower after the water's been turned on and showing your showerhead some TLC every so often. For a quick clean, rinse it with vinegar and water, then polish with a clean cloth. Or, if it's in need of a deep clean, use a toothbrush to scrub your showerhead and soak it in vinegar overnight.
5. Refrigerator
Your refrigerator is the lifeforce of your kitchen. It stores many of your cooking essentials. Think about how much stuff you have in your fridge and how much you rely on it. If it were to suddenly stop working, how much of your food would suddenly be wasted? Refrigerators will last between ten to twenty years. Again, that's a big gap, which is why it's important to pay attention to how your fridge is operating and take preventative care measures to get a longer life out of yours.
One place you can look to in order to see if it's time for a replacement is your energy bill. As they age, refrigerators become more costly to run. Newer models are more energy efficient and will cost less money to run, sometimes even cutting your bill in half.  You should also pay attention to your freezer and the items in it. If you notice that items aren't properly frozen or the temperature isn't maintained at zero degrees Fahrenheit, then it's time for a new unit. Additionally, listen for a humming noise. If you hear one, this means that the refrigerator's compressor is beginning to fail and you should start looking for a new refrigerator as soon as possible.
Another sign of a dying refrigerator or freezer is if it leaks. If you find water damage on the walls or floors when pulling it out, don't hesitate to have it cleaned up, followed by starting a search for a new appliance.
6. Washer and Dryer
Washer and dryer units have many parts to them, which is why there are so many opportunities for things to go wrong. These have an average lifespan of ten to thirteen years, so when issues arise it's important to take the scope and cost of work into consideration when deciding whether to repair or replace them.
The general rule is that if the cost of repair exceeds the cost of a new unit, to replace the unit instead of opting for the repair. Before approving any repairs, you should also think about your unit's age. If it's getting toward or is over the average lifespan, it would make more sense to replace than to move forward with repairs. By taking care of the units, it not only will help elongate their lifespan, but will also help prevent accidental house fires.
 7. Dishwasher
While some people don't have dishwashers, those who do and frequently use them should be closely monitoring how well theirs is operating, especially if it came with the house you bought and hasn't been replaced. Dishwashers will last an average of ten years, so you'll get long use out of it if you're considering installing one.
If you already have a dishwasher, it's important to make sure you're looking at its functionality. One key thing to look and keep an eye on is how well it's cleaning your dishes. If you start to notice that your dishes aren't coming out as clean as they once were, especially if your dishwasher is on the older side, then it's time to replace it with a new one. Also, if there's an increase in need for repairs, especially if they're costly ones, then replacing it would be more cost effective than continuously making repairs.
Of course, with dishwasher breaks comes leaks. At any time you find your dishwasher leaking with considerable water damage to the walls and floors, call a water restoration company right away. Refrain from using your dishwasher again until it's been inspected by a professional, but simply replacing it might be the better option, depending on its condition.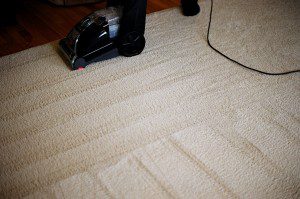 8. Carpeting
Home carpeting sees plenty of wear and tear. While we pay attention to the home items around us, we sometimes forget to pay attention to what's right under our feet. There's a big gap in the lifespan of home carpeting, with it being between five and 15 years, since it largely depends on how much use and maintenance it sees.
Consider replacing your home's carpeting if you have a large family or pets as it will endure more wear and tear in those cases. The type of carpeting you have also matters, since polyester fibers aren't as resilient, especially after being worn down. There are some preventative steps you can take to extend the life of your carpeting. Make sure regular vacuuming and cleaning it is a part of your routine. You should also consider scheduling a professional deep carpet cleaning a few times a year. Additionally, make sure that you have good quality padding with your carpet to extend its life.
Start Your Projects Today
Now that spring has officially arrived, there's no better day than today to get your spring cleaning projects started. When looking at what home items you should replace or repair, take into consideration its age as well as the repair costs. After that, you'll better be able to prioritize your to-do list and tackle your projects with a plan in place.