AfterCare Restoration
Fires are a unique type of disaster because they can start very quickly, cause extensive damage to your property, and immediately put those insides at risk of injury or worse.  The resulting damage is quite complex as the heat creates corrosive byproducts that, along with soot and smoke, continue to linger and spread damage after the fire is out.  Getting the home or building evacuated and the fire put out is always your first priority in a fire, but you must immediately turn your attention to the restoration after the fire is out to help contain the damage.  Our experts at AfterCare Restoration provide complete fire and smoke damage restoration services in Reading, PA to clean, restore, and repair damage to homes and commercial buildings that have experienced a fire.  We can effectively clean soot and residue from damaged materials as well as severe damage from the flames.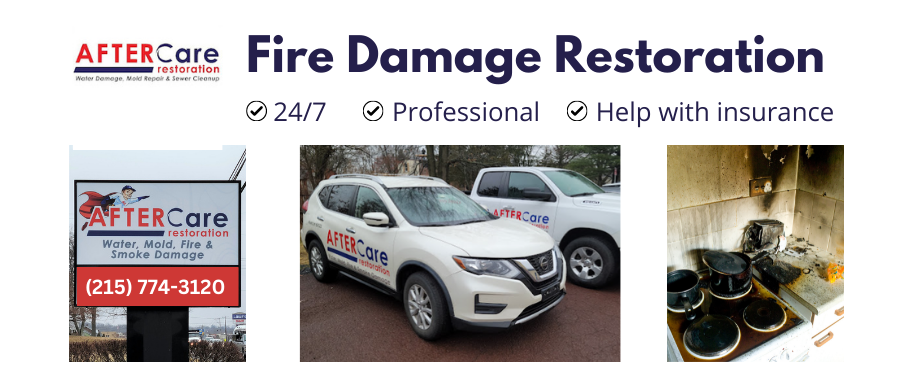 There is no denying the destructive power of a fire as it burns through a home or building.  Yet in most cases, the secondary damage caused by soot, smoke, and corrosive byproducts is more extensive than that caused by the fire.  This is why we stress the importance of calling for fire damage restoration as soon as you possibly can.  The soot and corrosive byproducts still hanging around after the fire will settle in new areas and cause damage to surfaces and materials that can quickly become permanent.  The smoke is also damaging because it can create harmful soot and residue as well as spread odors throughout your home.
Trusted Fire Damage Restoration
At AfterCare Restoration, we provide complete fire damage restoration that includes cleanup of soot damage, odor removal, and reconstruction to repair severe damage.  Our technicians arrive as quickly as possible to contain the damage and begin the cleanup effort before your materials sustain permanent damage.
For more information on Fire Damage Restoration, watch RestorationMaster Video:
You can expect the following steps with our fire and smoke damage restoration services:
24/7 emergency response to contain the damage
Immediate evaluation of the damage and an estimate for the work
Emergency board-up and stabilization services
Cleaning of soot and corrosive byproducts with effective and environmentally friendly cleaning methods
Odor removal and air purification
Content cleaning and pack-out services to clean and restore personal possessions
Removal of water from extinguishing the fire using water extraction equipment and dehumidifiers
Reconstruction of the damaged areas
Cleaning and restoration with disinfectants and anti-microbial to prevent mold growth.
Call AfterCare Restoration for Fire Damage Repair in Reading, PA
Evacuating from fire and getting it put out is only half the battle, you need to start the restoration process immediately to prevent more extensive damage.  Our technicians are available 24 hours a day to limit the spread of the damage and salvage as much of your property as possible.  You can reach us for emergency fire damage restoration in the Reading, PA area at (215) 774-3120.
---
Recent Reviews
Review by

T.W.
Rating

"Aftercare has been truly amazing. Very professional and personal all at the same time. Brought them in for an estimate and they were able to start our drying process right away. They walked me through what I would need to address with my insurance. we are currently in the process of picking flooring which they will be installing for us both in the areas at that did have the leak as well as a larger area in the home we are very grateful and happy to work with them. I would recommend aftercare to anybody that asks"
---
Review by

S.B.
Rating

"Our basement flooded this past August with the storms. Calling Aftercare was the best decision I made. They were quick to respond, worked within my budget, and did an AMAZING job! There were some things we wanted to upgrade and they were able to help us with that as well. They changed out the flooring in our bathroom and even came back to install a new basement floor. I highly recommend them to anyone looking for reliable quality work!"
---
Review by

P.B.
Rating

"Jeff and his team were incredibly professional and their work was perfect. They worked with our insurance company so that we didn't have to deal with the headache. We will absolutely use them again in the future and recommend them to anyone who needs work done in their house."