In the event of a natural disaster, the damage can be so critical that there simply is no time to react. Upon encountering your property approaching the stage of complete destruction, it is in these few moments to get on the phone and call for emergency services. This is because the damage can continue to spread, regardless of the disaster, and even cause the collapse of the structure.
ServiceMaster Restoration by Century is available 24/7 in Pflugerville, TX to provide emergency reconstruction services for home and business owners. Our construction team consists of licensed, trained, and experienced professionals who know exactly what to do in a situation such as this. As soon as we receive your call, we will respond immediately, stabilize the property, repair, and ultimately restore it to its original condition.
Emergency Services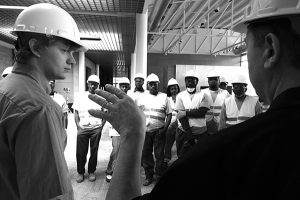 In addition to Pflugerville, TX, ServiceMaster Restoration by Century has been serving the homes and buildings of the entire state of Texas for over 20 years. Within our experience, we know that the damage can become much worse in just a few hours, such as from nuisance animals, rain, and even vandals.
So we ensure to respond immediately to remove the byproducts of the disaster, stabilize the structure, board up all windows and doors, and also tarp over the roof until the reconstruction services are ready to begin. Our professionals are also compliant by HIPPA to respect your privacy.
Our construction services cover all of the following:
Emergency response
Emergency tarping
Safety and risk assessment/pre-inspection
Emergency climate control and power generation
Damage Restoration and removal of byproducts
Odor removal
Roof replacement and repair
Soon after our arrival, our technicians will conduct a pre-inspection to address all safety concerns, remove them, and proceed with the board ups and tarping. All contaminants and biohazards will also be removed before starting the repairs process.
The following procedures are included within our repairs process:
Board ups: Natural disasters of all kinds can leave a property with broken windows and doors, prone to additional damage from different sources. But our professionals will ensure to have all openings and holes boarded up to contain the damage.
Tarping over roof: Storms and fires can leave roofing in severe conditions, containing missing shingles and holes. The first rainstorm to come can cost thousands of dollars in extra damage. But tarping over the roof and preventing this from happening is something our professionals cover right away in the repairs process.
Emergency power generation and climate control: Many properties, like hospitals, must have running electricity at all times. ServiceMaster Restoration by Century can provide the climate control and power generators needed to continue operations, minimizing interruptions to business operations during the reconstruction process.
Damage Restoration: As soon as the property has been fully stabilized and inspected, our licensed technicians and Master Restorers will begin working immediately to begin the restoration process. Whether water needs to be extracted, smoke and soot cleaned up, or significant repairs conducted after a storm, we will do whatever it takes to return the property to its original condition.
All of the following building materials are covered under our reconstruction services:
Parking and fencing
Attics and crawlspaces
Garages and covered parking
Brick structures
Roofing and siding
Sub floors and floors
Masonry
Carpeting
Painting
Cabinetry
Upholstery, drapery, and other textiles
Ceilings and walls
Balconies and decks
Concrete surfaces
Foundations
What to Do After A Disaster
Finding your home or building left in critical condition after a disaster can be one of life's most traumatic experiences. But it is critical to react immediately in order to prevent the damage from spreading and start the repairs process. This will not only save additional time but also money as additional damage and even collapse of the structure will be prevented.
Our technicians and Master Fire and Water Restorers are IICRC-certified, trained, and experienced to respond immediately and restore the structure to its original condition.
Don't hesitate to call ServiceMaster Restoration by Century at (512) 765-9630 for professional reconstruction services in Pflugerville, TX. We work with insurance providers.
---
Related Services:
Construction Company in Cedar Park, TX
Emergency Reconstruction in Lake Jackson, TX
---
Recent Reviews
Review by

A.D.
Rating

"Your attention to detail. Appreciate your customer service and promptness in getting someone out to my home."
---
Review by

B.T.C.T.
Rating

"PROFESSIONAL, COURTEOUS, QUICK, NEAT AND KEPT US INFOR. WE WERE MED AS TO ALL ASPECTS OF THE PROJECTVERY SATISFIED."
---
Review by

J.J.
Rating

"Incredibly fast response!"