A natural disaster can result in extensive damage to your personal items.  Property damaging events including fires, flooding, and mold growth can do great harm to your clothing, electronics and other important personal possessions.  It is imperative that valuables receive the proper cleaning and restoration in both a professional and timely manner.  ServiceMaster Cleaning & Restoration offers content cleaning and pack-out services to the Daytona Beach and Ormond Beach, FL areas.  You can be assured your damaged items will be properly cleaned and restored following a disaster.  We also offer pack-out services to our off-site facility if the damage inside your home is too extensive.
Content Cleaning and Restoration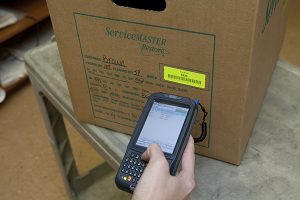 The first step following a natural disaster involving personal property damage is to take a thorough inventory of your damaged personal belongings.  Immediately make detailed notes of any damaged items so they can be properly cleaned and restored quickly, before permanent damage sets in.  Advanced equipment and cleaning methods are used to not only restore your damaged items to their original condition, but also to deodorize them.  We will take your items to our facility with our pack-out services if we are unable to complete the content cleaning and restoration process in your home.
Pack-Out Services
If your home is considered unstable or unsafe due to a natural disaster, let us handle the daunting task of cleaning and restoring your belongings.  Your damaged personal items will be carefully packed up and delivered to our facility.  We will carefully add each item to an electronic inventory that you will have access to at any time.  Your items will then be thoroughly cleaned and restored once they reach our facility.  We can also safely store your items while any repairs are done on your home and they will be safely returned to you when you are ready, leaving you with the peace of mind that the cleaning and restoration of your personal belongings has been handled with the utmost care.
If you have experienced fire, storm, water, or trauma damage and you require urgent restoration and repair, contact ServiceMaster Cleaning & Restoration at (386) 267-4440.  Available 24 hours a day servicing the Ormond Beach and Daytona Beach, FL areas, you can turn to our experts to professionally clean and restore your belongings.
Recent Reviews
Review by

S.R..
Rating

"You were quick and in contact with me in a short time frame to let me know that you would be helping me and on the way to arrive at around a certain time.
---
Review by

B.H.
Rating

" I was pleased with how much better the air smelled after ozone fans, cleaning, etc. People were friendly. I would use Service Master again. Thank you."
---
Review by

B.S.
Rating

"The tech was very knowledgeable and professional. They worked very quickly with little to no interruption wo our daily life. Very impressed with the Josh my service tech.."