Water damage is a very common, yet serious issue that can affect homes and businesses at virtually any time. Rain and flooding can seep into your home through leaks or cracks in the foundation, and your plumbing fixtures, pipes, and appliances can also malfunction and lead to major water damage. You should never hesitate to react when you find water damage on your property because the water will penetrate deeper into the building materials of your home or building which can result in major damage and mold growth. RestorationMaster provides complete water damage restoration services in Orlando, FL to help homes and business who are experiencing issues. Our technicians will use the right combination of science-based restoration and construction work to completely restore your property. As an environmental consultant, we can also identify and address environmental issues that led to the water damage.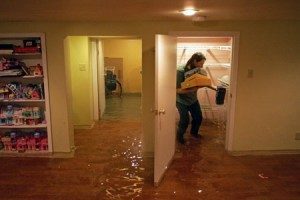 Most of the building materials used for homes and commercial buildings is absorbent, which means that water can spread through materials such as insulation, flooring, wood, and drywall largely unobstructed. As these materials absorb more water, they may swell, warp, discolor, or become weakened to the point that they threaten the structural integrity of the home or building. This is why you cannot ignore water damage because even a slow, small leak can spread through porous building materials and cause serious damage. Mold growth is another issue you must worry about with water damage because the presence of excess water makes it much more likely to occur.
Trusted Water Damage Restoration
At RestorationMaster, we can effectively remove excess water from homes and buildings, as well as dry and restore furnishings and materials with our advanced water extraction and drying equipment. Our technicians are also proficient with construction services and can rebuild any serious structural damage caused by the water. Our complete water damage restoration services include the following steps:
Complete evaluation of the damage
Removal of standing water with water extraction equipment
Thorough drying of affected drywall, carpeting, padding, furniture, and woodwork with dehumidification equipment
Cleaning and restoration of your personal belongings that have been affected
Mold and mildew remediation
Repair of the source of the excess water
Reconstruction services if needed
Help with insurance claims
Any type of water damage requires an immediate response so do not hesitate to contact RestorationMaster if your home or business in Orlando, FL is affected. Our technicians will thoroughly dry and repair the affected materials with advanced techniques, and ensure that the source of the water has been stopped to prevent further damage. You can call us 24 hours a day for emergency water damage restoration in Orlando, FL.