RestorationMaster in Olympia, WA
888-915-8868
When a crime or a serious trauma occurs in your home, it can be one of the most emotionally difficult situations to handle. The last thing on your mind is cleaning up the mess left behind. As cleaning can be traumatizing and dangerous, it is important that you contact a professional. RestorationMaster is here to aid you in this task. We offer trauma scene cleaning services in Olympia, WA and the surrounding areas to clean up crime and trauma scenes that contain biohazard materials. Our technicians have been properly trained in the field and use advanced cleaning products and equipment to safely restore the scene. Our mission is to clean the scene as quickly as possible so that you can move on from such a tragedy.
Crime Scene Cleaning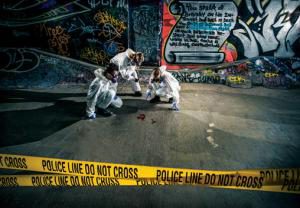 The reason that it is so important to contact a professional to clean up after a serious death or accident is because biohazard materials can contain disease-causing bacteria that only properly trained professionals can remove safely. With that, we use advanced equipment and cleaning products to properly remove all remnants from the trauma scene. We also work with law enforcement to make certain that our services comply with their investigation.
Our trauma scene cleaning services include:
Crime scenes
Homicides
Suicides
Natural death
Unnatural death
Trauma accidents
Industrial accidents
Tear gas cleaning
Fingerprint dust
Uninhabitable residences
Disinfection and odor removal
Vehicle mishap cleaning
Hoarding and gross filth
We know that a trauma scene can be extremely emotional for any family as we recommend counseling services for those that were involved in the trauma. Our technicians approach each situation with a sense of compassion and will ensure the protection your privacy as we work.
If you are located in the Olympia, WA area and a traumatic event has happened in your home or building, call RestorationMaster immediately. We will remove all biohazard materials and make certain that the area is restored to a safe condition. Call us any time at 888-915-8868 to ask about our emergency trauma and crime scene cleaning services in Olympia, WA.