AfterCare Restoration
After a devastating fire, you need a disaster restoration professional with the expertise and experience to help get your life back to normal. AfterCare Services provides a full spectrum of fire damage restoration services in Norristown and King of Prussia, PA to recover your property from smoke, soot, and damage to your structural materials and furniture. Our team works hard to ensure that your property is thoroughly cleaned and restored from the inside out following a fire, and we also make it our business to be sure you're completely satisfied with the results.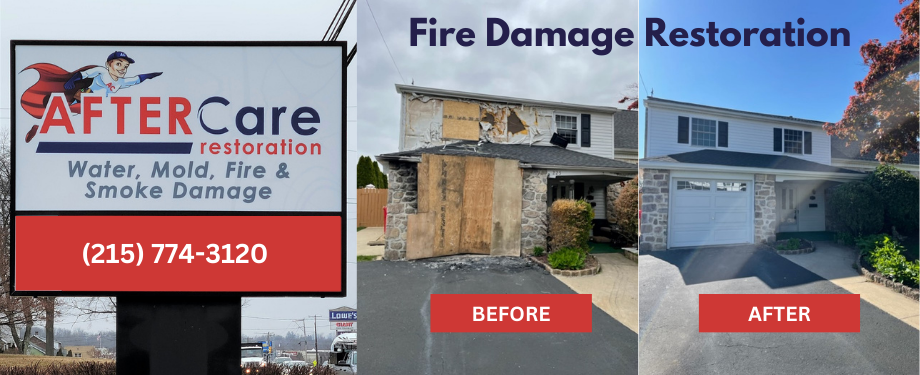 As a leader in the disaster restoration industry for over 30 years, AfterCare Restoration has the fire cleanup expertise necessary to get your home or business back to its former glory. Our restoration services provide everything you need to get comfortably back on your feet in the aftermath of a fire.
How Fire and Smoke Cause Property Damage
Fire damage is a multi-faceted issue that can cause several different types of destruction at once. When the fire burns, the consequent charring of materials can result in structural damage so severe that it leaves the building vulnerable to collapse. It is imperative to stabilize the structure as quickly as possible to prevent this from happening.
In addition to compromising the structural integrity of your property, fires also leave behind corrosive byproducts such as smoke, soot, and residue which can result in tarnishing and etching of the burned materials. It is imperative to act quickly to prevent permanent damage from occurring due to smoke and soot.
After a major fire, odor particles from the smoke can also become absorbed in porous furniture and building materials, resulting in a lingering odor throughout the property. Odors of this type cannot be removed with at-home tactics, so you'll need to contact a professional with the right equipment to extract those odor particles, so they're gone for good.
Watch RestorationMaster Video for more information on Fire & Smoke Damage Restoration
Fire Damage Restoration and Cleanup in Norristown and King of Prussia, PA
AfterCare Restoration is your partner for fire and smoke damage restoration in Norristown and King of Prussia, PA in Montgomery County. Our IICRC-certified technicians are trained to handle a range of fire and smoke damage restoration needs and can work with your insurance to help coordinate your policy after a disaster. We offer 24/7 emergency response services so that we can be on-site immediately in times of crisis. Our goal as professional fire restorationists is to make your property structurally sound and safe again so that you're able to return to normal life as quickly as possible.
We'll keep you in the loop with important updates at every stage of the restoration process. You'll never have to question what's being done, why it's being done, or what you can expect next. Part of our commitment to you is offering peace of mind while we work to bring your property back to life. You can expect complete transparency and no surprises with our pricing.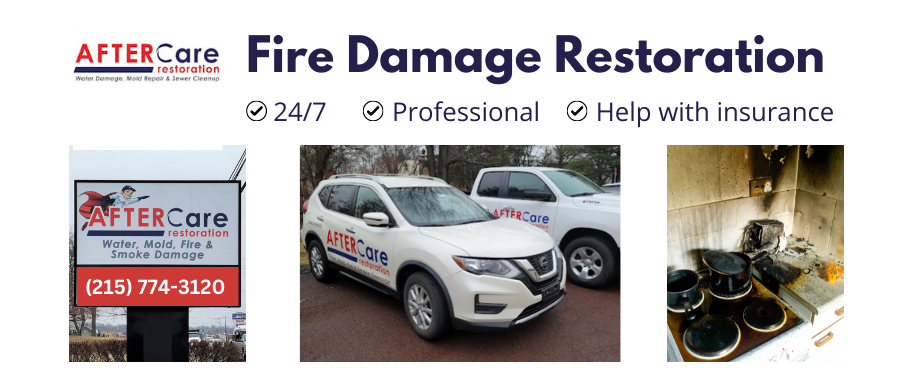 What's included in our fire damage restoration process in Norristown and King of Prussia, PA:
Examination of the affected area
Pre-cleaning of smoke and soot to prevent permanent damage
Stabilization and repair of structural damage to building materials
Content cleaning to restore damaged personal property
Removal of soot and residue from surfaces and property
Disposal of permanently damaged property
Odor removal
Water damage restoration as necessary
Fire Damage Repair Professionals You Can Trust in Norristown and King of Prussia, PA
At AfterCare Restoration, we are disaster restoration professionals. We know the extra work it takes to transform a home or business that has been affected by fire into one that is safe and habitable again. Our team is equipped and willing to be there for you through every stage of the restoration journey.
You can reach AfterCare Restoration 24 hours a day at (215) 774-3120 for emergency fire damage restoration and cleanup in Norristown and King of Prussia, PA.
---
Related Fire Damage Restoration Services near Norristown and King of Prussia, PA
Fire restoration professionals – Macungie, PA
Fire restoration team – Bethlehem, PA
Fire restoration technicians – Breinigsville, PA
Fire restoration experts – Emmaus, PA
Trusted Fire Restoration and fire damage repair – Alburtis, PA
---
Recent Reviews
Review by

T.W.
Rating

"Aftercare has been truly amazing. Very professional and personal all at the same time. Brought them in for an estimate and they were able to start our drying process right away. They walked me through what I would need to address with my insurance. we are currently in the process of picking flooring which they will be installing for us both in the areas at that did have the leak as well as a larger area in the home we are very grateful and happy to work with them. I would recommend aftercare to anybody that asks"
---
Review by

S.B.
Rating

"Our basement flooded this past August with the storms. Calling Aftercare was the best decision I made. They were quick to respond, worked within my budget, and did an AMAZING job! There were some things we wanted to upgrade and they were able to help us with that as well. They changed out the flooring in our bathroom and even came back to install a new basement floor. I highly recommend them to anyone looking for reliable quality work!"
---
Review by

P.B.
Rating

"Jeff and his team were incredibly professional and their work was perfect. They worked with our insurance company so that we didn't have to deal with the headache. We will absolutely use them again in the future and recommend them to anyone who needs work done in their house."