There are many elements that make up the interior décor of your home.  The carpet is one of the main elements and if it is left to become dirty, discolored, or worn out, it can make your entire home look bad.  The carpeting in a home can wear out quicker than most furnishings because daily foot traffic puts stress on the fibers and causes a buildup of dirt and debris.  Eventually this buildup will lead to stains and general wear and tear that can shorten the carpet's life.  ServiceMaster by Monroe Restoration provides professional carpet cleaning services to clean and restore carpeting for homes in Mishawaka, IN.  We use the industry standard hot water extraction method which can safely deep clean any type of carpet and restore its original color.
Residential Carpet Cleaning Method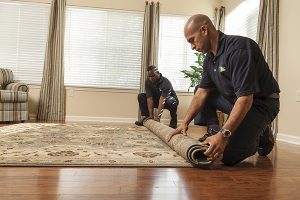 Our technicians are properly trained and equipped to remove built up debris and stains from the carpeting in your home with the hot water extraction method.  The hot water extraction method involves a specialized cleaning wand attached with hoses to a truck-mounted holding tank, and a solution of hot water and a mild detergent.  The cleaning wand is used to apply the hot water solution to the carpet which helps loosen dirt and debris.  The same cleaning wand instantly extracts the solution, as well as the loosened debris, and deposits the dirty solution into the truck-mounted holding tank.  This cleaning method does not leave a residue on your carpet and it has a very fast drying time.  If your carpet has stains, we will treat them separately with different cleaning products.
Our residential carpet cleaning services include the following steps:
Pre-Treatment: We pre-spray the carpet, including stains and high traffic areas, to loosen the debris.
Hot Water Extraction Cleaning: The hot water extraction method is used over the entire carpeted area to remove embedded debris. This will help improve the look and prolong the life of your carpet.
Certified Technicians: Each of our technicians are trained to safely and effectively treat all types of residential carpeting with our advanced equipment and cleaning products.
Long Term Protection: We can protect your carpet from debris and stains with a fabric protector application.
Free Estimate: We will provide a free estimate based on our initial inspection of your carpet.
Guarantee: We do a final walk through with you to make sure you are satisfied with the results.
You can maintain the carpeting in your home by vacuuming regularly, but your vacuum will not remove the deepest embedded debris from your carpet.  Our professional cleaning services will effectively lift debris and stains from your carpet to help it look better and last longer.  If you are interested in professional carpet cleaning services for your home in Mishawaka, IN, call ServiceMaster by Monroe Restoration at (574) 231-7179 to schedule an appointment.
---
Recent Reviews
September 5, 2019
Todd Sobieralski
Niles, MI
ServiceMaster was quick to respond. Right from my first contact with Julie McMahon I got the feeling of reassurance that I had called the right company. David Korlowicz who coordinated everything was GREAT! Very professional, well trained and personable, as was everybody I was in contact with. So glad I called! Thank You! Todd Sobieralski
July 27, 2019
Austin & Rebecca Hart
Three Rivers, IN
We had the best experience with them considering our circumstances. Our basement flooded and they handled everything. The crew came out as soon as they received the call and was so nice. Dried out our basement, brought a dumpster for everything we lost and removed it for us. I would recommend them to anyone.
---