Se habla Español
In residential and commercial settings, carpeting plays an important role in completing the look of a room and showing off to visitors a certain level of status. This may sound rather superficial, but it plays a big part in leaving a lasting impression on guests, whether they are friends and family members, or important business clients. At ServiceMaster All Care Restoration, we offer carpet cleaning services to ensure that your carpeting is in pristine condition. Our advanced cleaning and restoration procedures eliminate deeply embedded stains and debris, and make your carpeting look nearly as if it were put down the day prior. We offer these services to property owners in Mesa, AZ.
The Toll of Dirt, Dust, and Debris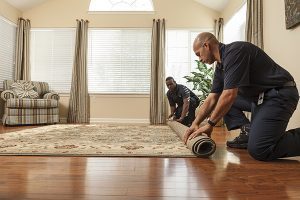 Despite the value and importance of carpeting, many of us take it for granted to a certain extent. Sure, we vacuum on occasion, but we do not truly give carpeting the attention it deserves. As a result, dirt, dust, and debris slowly build up deep within the fibers of the carpeting to cause discoloration and deterioration. This occurs because these particles become embedded beyond the reach of standard vacuums, and act as sandpaper as they are continually stepped on. Then there are the implications of spilled liquids, allergen buildups, and other unsatisfactory occurrences. We address all of this and more through our carpet cleaning services.
Residential Carpet Cleaning
There is a reason many homeowners ask their guests to take off their shoes before walking in. It is simply because they do not want dirt, mud, and other debris getting tracked in. Even in these cases, it is common for materials to build up within carpeting and cause damage. In situations involving children, pets, and/or smokers, the need for professional carpet cleaning services grows. Taking advantage of these cleanings at least once per year will extend your carpeting's operation life and keep them looking and smelling fresh.
Commercial Carpet Cleaning
Similar things can be said for carpeting in commercial settings, although these carpets experience much higher levels of foot traffic than those in residential settings. As a result, they have a greater need for professional cleaning services. At ServiceMaster All Care Restoration, we can provide regularly-scheduled cleaning services in addition to our deep-cleaning services.
Professional Carpet Cleanings
Our advanced carpet cleaning services penetrate deeper than standard stain removers and vacuums. Our process includes the following:
Pre-cleaning of high-traffic areas
Pre-treatment of spots and stains
Our hot water extraction cleaning method (this process removes deeply embedded dirt and debris from your carpeting's fibers)
Post-cleaning stain treatments
Grooming of carpet fibers for quicker drying and a better look
A final inspection to ensure your satisfaction
To learn more about our carpet cleaning services (single-time or recurring), simply contact our ServiceMaster All Care Restoration representatives at (480) 717-3030. We are happy to schedule an appointment with you, and are proud to service residential and commercial property owners in Mesa, AZ.
---
August 2, 2020
Christopher Zastrow
Surprise, AZ
See All Reviews