Not many disasters can incite fright into homeowners like a fire can. Its flames immediately destroy whatever is in its path. When the fire has been extinguished, it leaves behind soot and corrosive byproducts that cause more damage as it spreads throughout a property. Within 72 hours, they can permanently damage whatever furnishings and structures that have been affected. At RestorationMaster, we provide fire and smoke damage restoration services to businesses and homes in Mandarin, FL. We limit the corrosive materials from spreading by containing them ― and, in the process, we prevent further damage. Additionally, we will restore or repair any materials that have been damaged.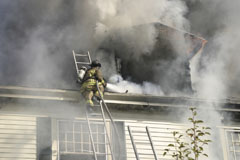 Many properties contain synthetic materials that burn quickly and, when burned, give off corrosive byproducts, causing more damage. Because of this, it is important that the restoration for your property and materials is done promptly after the fire has been put out. After the fire has been extinguished, corrosive byproducts, smoke, and soot keep settling in. They cause etching and tarnishing that can become permanent quickly. We use specialized equipment and effective chemical cleaning products that will remove etching and tarnishing from aluminum, brass, carpeting, chrome, marble, porcelain, upholstery, and other household surfaces.
The following steps are included in our basic fire damage restoration services:
Emergency pre-cleaning
Content cleaning and pack-out
Ceiling and wall cleaning
Odor removal
Often, there are different layers of damage fires cause that can complicate the restoration process. However, RestorationMaster is ready to tend to such situations as part of our fire damage restoration services:
Carpet drying
Debris removal
Drywall replacement
Document drying
Emergency board-ups
Mold removal
Pack-out cleaning and storage
Smoke odor removal
Structural drying
Smoke Damage Restoration
Smoke has the potential to be the most harmful part of a fire because it spreads and damages areas that were unaffected by the flames. Soot also damages materials and surfaces in a similar way, causing harm even after the fire has been extinguished. Additionally, smoke can affect your furnishings, ceilings, and walls with the oily residue it leaves behind. If the smoke residue or soot damage isn't cleaned or restored in a quick enough manner, then the damage becomes permanent. Our technicians conduct thorough smoke damage restoration services, including residue and soot removal from affected materials and surfaces with effective cleaning products.
Another issue with smoke is its odor. Smoke odor is absorbed by porous materials, making it very difficult to remove the odor from your home. At RestorationMaster, we will use advanced deodorized equipment and techniques to eliminate smoke odors from the air space and affected materials.
When there's a fire in your property, its occupants' safety is in jeopardy. You need to, first, evacuate the property and make sure everyone is safe. Once that has been achieved and the fire has been extinguished, immediately seek restoration services. At RestorationMaster, we are prepared to help homes and businesses in Mandarin, FL with our exceptional fire damage restoration services. We can be reached 24/7 at (904) 559-3223 for emergency fire and smoke damage restoration.