ServiceMaster EMT provides emergency board up service in Los Angeles and Lake Forest, Orange County, California for all types of calamities.  Whether your windows and other openings have been damaged by fire, storms, accidents, vandalism or other causes, our board up service is available around the clock.
Board Up Services
Our board up services will keep your property secure and safe from further damage with quick efficient service and the right materials for your situation. Plus, if you need our emergency board up service, we'll work with your insurance company to coordinate claims.  ServiceMaster EMT specialists will help bring you peace of mind when you need board up services for residential or commercial properties in Los Angeles and Lake Forest, Orange County, California.
Pack Out Service
We also offer pack out service for your property's contents if there are security concerns or severe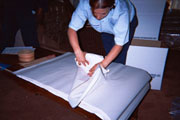 damage. A pack out is an industry term for removing items from your property and taking them to our ServiceMaster EMT facility in Lake Forest, CA 92630.
For severe contents damage, such as heavy smoke or water damage, pack out service may be required for content restoration, including cleaning and deodorization.  If pack out service is required in Orange County or L.A., California, we conduct a detailed inventory of your property before carefully packing and taking it to our facility.  Then ServiceMaster EMT will store your items until it is time to return them to your dwelling.
Our emergency board up service and pack out service will take care of both your immediate needs and long-term property restoration, giving you peace of mind after disaster strikes – call (888) 767-9075.
Use the form on the right to request a quote for ServiceMaster EMT board up services in Orange County, Lake Forest CA 92630, and Los Angeles CA 91331 area.
---
Related Packout, Dry Cleaning, Board Up Services
Packout, Dry Cleaning, Board Up Services in Anaheim, CA 
Packout, Dry Cleaning, Board Up Services in Huntington Beach, CA
Packout, Dry Cleaning, Board Up Services in San Diego, CA 
---
Recent Reviews
Review by

Don McNamara
Rating

"Allow me to take this opportunity to complement your organization for the superior manner in which they serviced our water and mold remediation problem recently. Both Maureen and I found your technicians and office staff to be extremely sensitive and empathic regarding the situation we found ourselves in with the problem created from a leaking dishwasher... It is refreshing in a world that pays lip service to the word 'service', that your team really does put service first. Moreover, they live the word service as in your company name - ServiceMaster..."