ServiceMaster Restoration And Cleaning
Serving the Kingwood area since 1992
The heating and air conditioning helps create a comfortable environment in homes and commercial buildings which makes it important to keep the HVAC system running efficiently.  Without proper maintenance, the HVAC system may lose some of its efficiency which can raise your heating and cooling bills and increase the chance of a breakdown by forcing the system to work harder.  The biggest cause of this loss of efficiency is the buildup of dust and other airborne debris that enters the HVAC system each time it runs the heating or cooling.  ServiceMaster Restoration & Cleaning provides air duct cleaning services in Kingwood, TX to remove dust and debris that has built up within the HVAC system.  Cleaning out the air ducts will help improve your heating and cooling efficiency and save you money by lowering your bills and preventing breakdowns.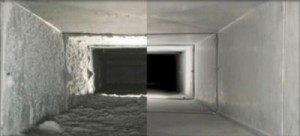 It is all but impossible to keep the dust out of your air ducts because as much as 40 pounds of dust passes through the air inside a home in one year.  A buildup of dust within the air ducts can partially block the space which causes the HVAC system to work harder to force air through.  This loss of efficiency is what causes a rise in your heating and cooling bills.  The dust also gathers on the internal parts of the HVAC system which can eventually cause these parts to malfunction.  Dirty air ducts may affect your health as well because the built-up dust and debris gets sent back into the breathing air when the system runs.
Commercial and Residential Air Duct Cleaning Services
Having your air ducts professionally cleaned every couple of years will prevent huge buildups of dust that affect the efficiency of the HVAC system or cause a malfunction.  At ServiceMaster Restoration & Cleaning, we can remove dust and debris from the air ducts and internal components with our advanced cleaning equipment and methods.
Our air duct cleaning services can cover the following:
Air ducts
Drip pans
Heating and cooling coils
Vents and registers
Heat exchanges
Grilles and diffusers
Air handling unit housing
Fan motor and housing
Higher energy bills, dirty vents and registers, and poor indoor air quality are the most common signs that your home or building needs professional air duct cleaning.  Contact ServiceMaster Restoration & Cleaning if you need air duct cleaning services for your home or business in the Kingwood, TX area.  You can reach us at (281) 612-8739 for more information.
January 20, 2023
Clyde Loudenberg
Missouri City, TX