Indoor flooding is a major issue in a home or building because this amount of water can result in significant structural damage, mold growth, and even unsanitary conditions. There are several possible causes of indoor flooding including rain and natural flooding as well as internal problems like overflows, plumbing leaks, and sewage backups. This means that an indoor flood can happen at virtually any time and it is important to get the water removed as quickly as possible. RestorationMaster provides flood damage restoration services to remove flood water from homes and businesses in The Islands and Mt. Pleasant, SC. We use advanced extraction equipment to remove the flood water and we will also completely dry and restore the affected areas.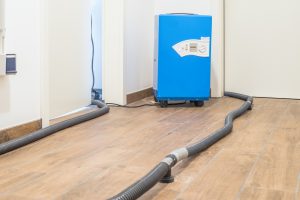 The damage caused by indoor flooding is worse than typical water damage because it affects a larger area and gets absorbed quicker and deeper into porous building materials. Wood, drywall, and flooring are some of the building materials that absorb water and if these materials absorb too much water, they will become damaged and structurally weak which can lead to much bigger issues. The other danger with indoor flooding is the potential health effects caused by mold growth or harmful microorganisms and sewage that can find its way into the flood water.
Our technicians at RestorationMaster are prepared to remove standing water from homes and buildings with our water extraction equipment and we also dry the affected areas with strategically placed dehumidifiers. After the water extraction and drying process, we make sure to repair the resulting damage and disinfect the area to prevent negative health reactions.
The flood damage restoration services we provide include:
Emergency Response: We are ready to provide emergency assistance 24 hours a day to stop the spread of the water and assess the damage.
Water Removal and Drying: The flood water is extracted with our equipment and we use dehumidifiers to extract moisture from the affected materials.
Reinstallation and Cleaning: After the water is removed, we will restore and disinfect the affected areas and put any large objects moved during the process back where they belong.
Flooding from Sewage Backups
One of the most difficult causes of indoor flooding to deal with is a sewage backup. Sewage backups occur when the main sewer line is blocked which causes the sewage to come into your home. Sewage water consists of waste materials that harbor bacteria, viruses, and other harmful toxins that can cause disease, making it very important to avoid contact and call a licensed professional for cleanup. We are properly trained and equipped to remove sewage water safely and we will help prevent the spread of disease or infection by thoroughly cleaning and disinfecting the area.
If you experience flooding in your home or business, you must call for professional help immediately before the water has a chance to cause serious structural damage or mold growth. RestorationMaster is ready to provide flood damage restoration services in The Islands and Mt. Pleasant, SC to remove the flood water and get the damaged areas cleaned up and restored. You can call us 24 hours a day at (888) 915-8868 for emergency flood damage restoration.