Most of the time that we do not spend at home is spent working and because of this, having a clean and comfortable working environment is crucial for keeping employees healthy and productive. The comfort and health of your employees is obviously important but keeping your office or workspace well maintained also helps improve the look of your space which contributes to the comfort of your employees and makes a better impression on clients, customers, and visitors. One effective way to ensure the cleanliness of your office is by keeping the carpeting and upholstery cleaned and ServiceMaster of Aurora Experts provides commercial carpet and upholstery cleaning services for businesses in Aurora, IL. We have the right cleaning products and equipment to clean and restore all types of commercial carpeting and upholstery.
Commercial Carpet Cleaning for Aurora
The appearance of an office contributes to the impression that employees and clients get of your business and maintaining the carpet is a great way to help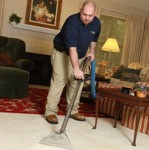 improve the overall look of the space. Carpeting in commercial spaces experiences daily heavy use which causes it to gather dirt and debris in the carpet fibers that will make it appear dirty and cause the fibers to wear out. ServiceMaster of Aurora provides commercial carpet cleaning services to clean and restore all types of carpeting for offices and other commercial settings in Aurora, IL. We use the most advanced cleaning products and equipment of the industry to pre-treat the carpet for stains and our truck-mounted cleaning system removes the deepest embedded debris from the fibers. We can provide commercial carpet cleaning as a one-time service or as a regularly scheduled service to provide consistent maintenance.
Commercial Upholstery Cleaning for Aurora
The furniture in an office experiences consistent use on a daily basis much like the carpeting and the upholstery on the furniture can also trap dirt and debris that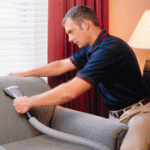 make it look dirty and worn out. Some debris can even become abrasive against the fabric from the direct contact of a person using the furniture which can cause the upholstery to deteriorate quickly. ServiceMaster of Aurora provides professional upholstery cleaning services for furniture in offices and commercial spaces using our state-of-the-art cleaning equipment and products. Our upholstery cleaning services include the following actions for all upholstery types:
Pre-treatment for spots and stains
Thorough cleaning and drying of the upholstery fabric
Frame polishing
It is important to keep your office or commercial space cleaned and maintained because it can create a comfortable and heathy environment for the employees which helps keep up productivity, and it helps keep the workspace looking good which reflects better on your company. Businesses in Aurora, IL can keep their offices and workspaces maintained with the commercial carpet and upholstery cleaning services from ServiceMaster of Aurora. You can reach us anytime at (630) 427-4046 to learn more about our commercial carpet and upholstery cleaning or to schedule an appointment.