After years of foot traffic and wear, your carpeting can start to look old and dirty. Here at ServiceMaster Restoration and Cleaning, Houston, TX we have the expert equipment and certified technicians to restore your carpeting to look like new.  By scheduling regular cleanings every 6-12 months, you can keep the appearance of your carpets.   We can handle any commercial or residential carpets that need cleaning.
We start by concentrating on high traffic areas of businesses or households.  Tackling these parts first will ensure your carpets are cleaned evenly and thoroughly.    Here at ServiceMaster Restoration and Cleaning, Houston, we have the equipment and knowledge to remove the contaminants and detergents hidden just underneath the surface of your carpets. We want your carpets to not only look and smell great but also feel great under your feet.
Commercial and residential carpeting can be a large investment, make sure to protect that investment with regular scheduled cleanings.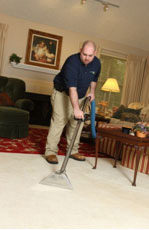 Our carpet cleaning services include:
Preliminary inspection of your carpets to determine the best cleaning method
Pre-treatment of spots and stains
Pre-application of cleaning products to loosen ground-in soil
Rinsing your carpet with clear, hot water
Post-treatment of any residual stains
Carpet grooming for efficient drying and a uniform appearance
Placing pads under furniture legs to protect the carpet while it dries
Final inspection with you to ensure your complete satisfaction
Call us, ServiceMaster Restoration and Cleaning, Houston today to schedule a professional carpet cleaning appointment at (281) 668-5912.
September 10, 2019
Becky Everhart
Spring, TX
August 31, 2019
Corlene Edwards
Conroe, TX
I had water damage in most of my home. Service Master responded very quickly. Every one was kind and considerate. I was overwhelmed, they guided with a efficient plan and helped solved many questions I had. I can't tell you how thankful I am for Service Masters and the expert, knowledgeable people that work there. Thank you!! Corlene Edwards