Water Damage Related Info
Water damage can happen at any time, and may not be noticed until after the damage is done. RestorationMaster are the leading water damage restoration experts who have years of experience in flood restoration field in Greensburg, PA. Our operators are available 24/7 to ensure a timely response is given. Water damage can be derived from anywhere while covering large and small areas.
Any time of day, we are available to get the job done. Getting professional water damage cleanup started quickly is essential to keeping your property from further destruction. We have years of experience to ensure you will get the best care for your items.
Our flood cleanup services include the following:
Water Damage Restoration
Drying, Dehumidification, Water Extraction
Document Drying and Recovery
Complete Building and Contents Cleaning
Carpet, Rug and Upholstery Cleaning
Mold Remediation
HVAC Duct Cleaning
Antiques and Fine Art Restoration
Electronic Equipment Restoration
Data and Document Recovery
Furniture Refinishing
Biohazard Cleaning
Water Damage Restoration
A lot of damage can be done with just a small amount of water; hesitating too long can cost you more in repairs and cleaning in the long run. But with our years of experience, you are guaranteed a quality restoration in a timely manner. RestorationMaster's extensive list of water damage restoration services allows us to handle any kind of loss in any amount of destruction.
We do a full assessment of the damage to be sure no repairs get ignored, putting your mind at ease. We have updated equipment including dehumidifiers, air movers, desiccants, air scrubbers. In addition our truck-mount extraction methods are used to restore your home quickly and professionally.
Water Extraction – What to Do
Call RestorationMaster immediately to not only limit the spread of damage but to inhibit mold growth.
Try to remove as much water as possible by blot drying or mopping the affected area.
Pack any books tightly in their place to avoid any further damage.
Place any artwork in a high, dry environment.
Prop up any furniture cushions and/or pillows to prevent the growth of mildew.
Place a piece of aluminum foil between the furniture legs and wet carpet to prevent the water damage from traveling upward.
Wipe down any walls that are wet to inhibit mold growth.
Flood Cleanup – What to Avoid
Do not enter any room with standing water until the electricity is completely turned off.
Do not try to vacuum up any standing water.
Do not attempt to use any electrical appliances until cleared by water damage restoration technician.
Avoid any direct contact with visible mold as it will spread if disturbed.
Avoid walking on any wet carpet as it can spread the damage.
Do not place newspaper on wet carpet to walk on as the ink can bleed into the wet fibers.
Water Damage Repair
Many materials, such as wood, drywall, and furniture are extremely porous and can absorb water rapidly.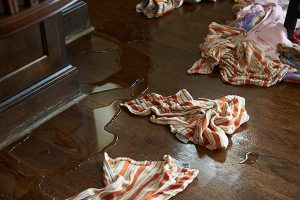 This can result in compromised structural integrity from rotting and degradation. Mold and mildew growth is another potential hazard that can result from excessive water and humidity. Preventing growth and damages from mold requires timely response and professional knowledge. RestorationMaster has exceptional staff to provide water damage restoration services in your home or building.
For professional water damage restoration and flood restoration services in the Greensburg, PA area, RestorationMaster is available 24/7 at 888-915-8868.