Green Planet Restoration
Fires are serious and can be devastating to your home or business. Smoke damage restoration requires an expert eye, skills, and knowledge of the many operations that need to be undertaken to remove smoke and its lingering odors from your home or building. When you need smoke and fire damage restoration in Burbank, CA contacts Green Planet Restoration.
Smoke damage restoration presents many challenges. Smoke residue is often difficult to detect, and the restoration procedures require an expert eye and skill level to execute correctly. At Green Planet Restoration in Burbank, CA, we pride ourselves on our extensive knowledge of smoke, soot, and odor removal techniques that can fully restore your damaged property after a fire.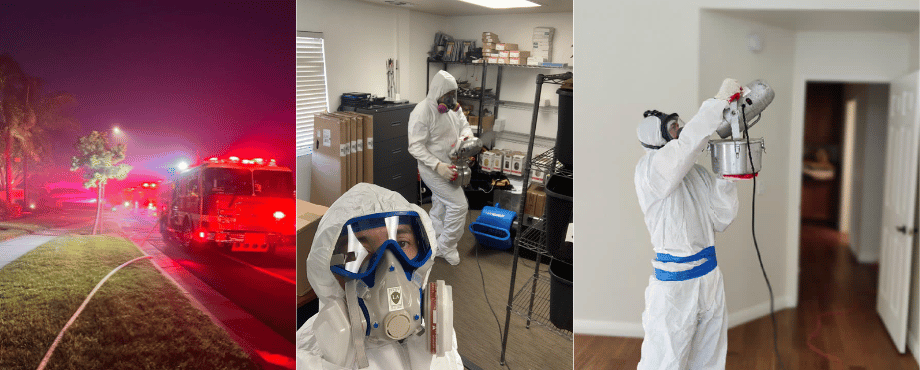 After a fire or other disaster, you need a team that knows how to restore your home or business. Our team understands how important your property is to you, and we work tirelessly to bring it back to pre-loss condition. We use state-of-the-art equipment and cleaning agents developed specifically for smoke damage restoration that restores the value and beauty of your property.
Our five-step fire damage restoration process includes:
Emergency pre-cleaning
Content pack-out
Wall and ceiling cleaning
Smoke Damage and Odor Removal
Fire damage can cause permanent damage to the property if it's not addressed quickly and properly.  Soot, oily residue, and smoke are all byproducts of a fire that affect the structure of your home long after the flames have cleared.  If not cleaned up immediately, these byproducts may cause discoloration, etching, and other permanent damage to your home. At Green Planet Restoration, our team has the training, experience, and tools to ensure that your property is restored to its original condition so it's ready for occupancy again.
Watch Video for more information on Smoke Damage Repair
Contact Green Planet Restoration for 24/7 Smoke Damage Restoration in Glendale, CA
In the aftermath of a fire, smoke odors can linger and leave a strong scent in your home. Because the odor particles become embedded in the air and porous materials, professional-grade cleaning products are necessary to fully extract them and make your home odor-free again. At Green Planet Restoration, we are equipped to perform thorough odor removal services to restore your home after a fire.
Contact our team 24 hours a day, 7 days a week at (626) 415-3677 for a free estimate on smoke cleanup and odor removal for your Glendale home or business. We are open around the clock for fast emergency response.
---
Nearby Smoke Damage Restoration Services:
Smoke Damage  Repair in Alhambra, CA
Smoke Damage Cleanup in Burbank, CA
---
Recent Reviews
Review by David S.
Fire and Smoke Damage Restoration
Rating

"Dan is one of the easiest and most professional technicians I have ever worked with. He made the entire process throughout my claim easier than I could have hoped for. Friendly, reliable, and super professional. Can not recommend this company any more."
---
Review by Stefan Lövgren
Fire and Smoke Damage Restoration
Rating

"We had a house fire about 8 months ago (our neighbor's BBQ blew up and the fire trailed up our unit) and we were completely stuck on how to go about it. We ended up googling a few companies and happened across Green Planet Restoration. We called and made an appointment for the next day. Ruben came to assess the damage (there was obviously water and fire damage after the Fire Department came), and he was able to bring a team to start the restoration part immediately. Thankfully we had home insurance, so after starting a claim, we handed it our to their office and they literally took care of everything. Besides my deductible, I did not pay a single penny. We just moved back into our home after Green Planet's moving team—I think it's called a pack out/in—brought our remaining furniture back in, and our house looks and feels better than before. I feel safe knowing that I am sleeping in a home that was restored professionally. Thank you, Ruben, for all your help! We are forever grateful!!"
---
Review by Mayva B.
Fire and Smoke Damage Restoration
Rating

"Greent planet restoration Cesar and the team did an excellent job. I'm very pleased wit their efforts to make life go back to normal after a fire. 10/10 stars for everyone involved. Still sorting things but happy so far."