Green Planet Restoration
Se habla Español
Hoarding is a disorder that can have dangerous consequences for those affected as the symptoms will gradually become worse and lead to unsafe living conditions.  As the individual begins collecting items, he or she will become incapable of disposing of anything and the hoard of items will continue to grow, blocking access to parts of the home and harboring mold and other bacteria.  Green Planet Restoration provides hoarding cleaning services to help individuals who struggle with hoarding in Glendale, CA clean out their homes and restore sanitary living conditions.  These services include the removal of hoarded items as well as decontamination of the home.s the symptoms of hoarding progress, the individual may collect paper products, food containers, newspapers, trash, and in some extreme cases even animals.  A large hoard of collected items is dangerous not only because it blocks off areas of the home, but also because it can allow mold, mildew, and other harmful bacteria to grow which can have negative health effects.  Individuals that struggle with hoarding rarely reach out for help themselves and it is usually a family member or close friend that initiates the process.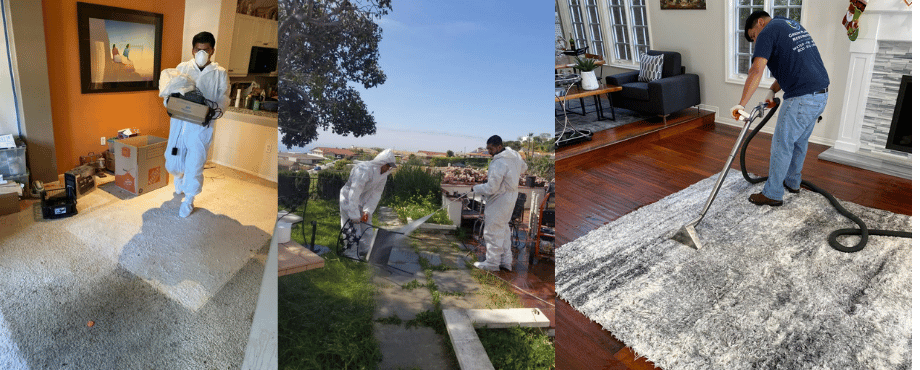 The technicians of Green Planet Restoration are experienced with hoarding cleaning projects and understand the importance of approaching each situation with compassion and respect for the individual.  We use the best equipment available in the industry to remove hoarded items and clean and decontaminate the home once they have been removed.  As we clean out the hoard, we will help the individual and their family decide what should be kept and what should be thrown away.  If we encounter biohazard materials such as mold, bacteria, bodily fluids, or dead animals, we are equipped to dispose of these materials safely.
Green Planet Restoration Hoarding Cleanup Process
Each member of our staff has the licensing and certification necessary to work on hoarding cleaning projects and our cleaning methods comply with the rules and regulations of OSHA, the EPA, and the Department of Transportation.  Our hoarding cleaning services include the following steps:
Decontamination: The entire infected area is decontaminated to kill mold and bacteria after the hoard is removed.
Deodorization: Any lingering odors are removed with powerful deodorizers.
Disposal: We can dispose of unwanted items properly including biohazard materials.
Contact Us for Hoarding Cleaning Services in Glendale, CA
The effects of hoarding can threaten the safety of individuals that struggle with this issue so it is important to get help for those that hoard as soon as possible.  Green Planet Restoration provides hoarding cleaning services in Glendale, CA to help clean out hoarders' homes and create a much safer environment to live.  You can call us anytime 24 hours a day at (626) 415-3677 to talk to our professionals about hoarder cleaning services.
---
Recent Reviews
Review by Marco H.
Disaster Restoration
Rating

"The team is awesome great response also working with my insurance to make sure everything is covered they go bat for you I have used them a few times in the past excellent company"
---
Review by David S.
Disaster Restoration
Rating

"Dan is one of the easiest and most professional technicians I have ever worked with. He made the entire process throughout my claim easier than I could have hoped for. Friendly, reliable, and super professional. Can not recommend this company any more."
---
Review by Eric Rio
Disaster Restoration
Rating

"Great company. They got the job done quickly and we didn't run into any problems. They have years of experience and you can definitely see that."