Whether it concerns a death, suicide, or violent crime, trauma scenes need to be attended to in a particular manner to make sure that cleaning and restoration are done safely and properly. RestorationMaster can help with the trauma and biohazard cleaning services we offer in Germantown, MD.  We employ a certified, well-trained, properly equipped staff that uses specialized products and equipment to conduct biohazard waste cleaning, decontamination, sanitation, and deodorization.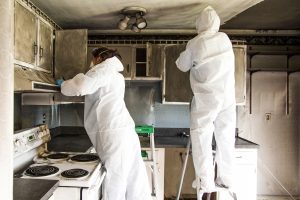 We are aware of the difficulties that trauma situations can bring about, which is why the staff at RestorationMaster always respects clients' privacy and treats them with respect. Our staff will conduct a thorough assessment of any damage and will proceed by containing, decontaminating, and removing the biohazard materials from your property. Among the biohazard materials that can be found at a trauma site include blood and other bodily fluids. These are dangerous because of the disease and infections they can cause. Knowing this, it is crucial that such materials are handled and discarded properly. Our staff will have no problem with this, as they do continual training to ensure they know how to correctly work with biohazard materials. Covered within the specialized training are:
Use of personal protective equipment
OSHA regulations
Airborne and blood-borne pathogen spreading
Biohazard and bodily fluid contaminants
Surface disinfection and sanitization
Jobsite training
If you come across a trauma scene that contains biohazard materials, then you need to get in touch with RestorationMaster promptly for the trauma and biohazard cleaning services that we provide in Germantown, MD. We employ a well-trained, properly equipped staff that can effectively clean and restore properties for the following trauma scenarios:
Violent crimes and homicide cleaning
Vehicle/automobile blood cleaning
Suicide cleaning
Injury and accident cleaning
Unattended death cleaning
At RestorationMaster , we are always compassionate with clients and respect their privacy, doing our best to give you some peace of mind in a tough situation.
For a free quote, call us at (301) 381-2304.