(402) 973-3858
The furnishings in a home or office contribute greatly to the appearance of the space, especially the carpeting.  However, the carpeting is sometimes ignored until it has become dirty or worn out enough to affect the look of a home or office.  Carpets consistently gather dirt and debris from everyday foot traffic that accumulates in the fibers and causes discoloration, staining, and deterioration in extreme cases.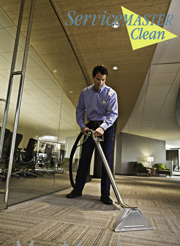 ServiceMaster Restoration Services provides professional carpet cleaning services to clean and restore residential and commercial carpeting in Elkhorn, NE.  We use state-of-the-art cleaning products and equipment to remove deeply embedded debris that cannot be removed by vacuuming.
Our Carpet Cleaning Process
ServiceMaster Restoration Services is prepared to clean and restore all types of carpeting with the hot water extraction method.  We use a specialized cleaning wand that deposits a solution of green cleaners and hot water into the carpet fibers and immediately extracts the solution back out, lifting the dirt and debris with it.
The extracted solution is stored in a truck-mounted holding tank that is disposed of off-site when the job is finished.  We also make sure to treat stains with specialized stain removers to leave your carpet looking new and spotless.
You can expect the following from our carpet cleaning services:
Pre-Treatment: We will treat stains with our specialized cleaners and pre-spray your carpet to help loosen debris before beginning the cleaning.
Hot Water Extraction: We clean the entire carpet with the hot water extraction method which effectively removes deeply embedded dirt and debris.
Certified Technicians: Our technicians have the training to provide effective carpet cleaning services for any carpet type.
Long Term Protection: Our fabric protector and stain solution will provide long term protection for your carpet.
Convenience: We will complete the carpet cleaning within one day and your carpet will be dry within 24 hours.
Free Estimate: We offer free estimates based on our evaluation of your carpet.
Guarantee: We guarantee that you will be satisfied with the results.
Free Estimate for Carpet Cleaning
It is important to regularly vacuum your carpet, but vacuuming alone does not remove everything.  Dirt and debris will still get embedded deep in the fibers which will affect the appearance of your carpet.
ServiceMaster Restoration Services offers professional carpet cleaning services as a one-time service or a regular scheduled service to provide continuous maintenance for your home or business in Elkhorn, NE.  We are available at (402) 973-3858 to schedule a carpet cleaning appointment.
---
Related Carpet Cleaning Services:
Home Carpet Cleaning Services in Fremont, NE
Residential Carpet Cleaning Company In Omaha, NE
---
Recent Reviews