(815) 733-9123
Every home and building contains hard surface flooring.  They come in many varieties and they are chosen for specific applications because they are durable and available in a wide range of colors and patterns.  Hard surface floors must be properly cleaned and maintained or they can become dirty, faded, or damaged. 
Nu-Gen Cleaning & Restoration 
provides
hard surface floor cleaning services
to clean and restore all types of hard floors for homes and businesses in
Elgin,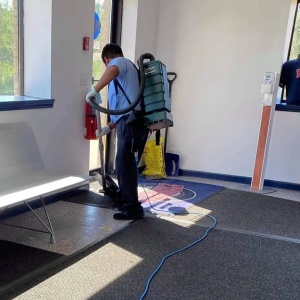 IL
.  We use the best cleaning products and equipment available to remove dirt and stains from hard surface floors to help restore their appearance and improve their longevity.
There are many types of hard surface floors found in homes and buildings that include hardwood, vinyl, laminate, and tile among others.  Each of these flooring types have tiny crevices between the tiles or panels and usually some type of surface finish.  As these floors experience foot traffic, dirt, dust, and other debris find their way into the crevices.  This buildup will eventually cause discoloration of the floors and fading of the finish and if given enough time, it can also result in the flooring coming apart.
At Nu-Gen Cleaning & Restoration, we have the right cleaning equipment and products to effectively remove embedded dirt and debris from the crevices.  We also provide refinishing services for floors with worn out finishes and can even repair minor surface damage.
Our hard surface floor cleaning services produce the following results:
Clean floor with a nice shine
Improved appearance
Fast and effective cleaning process
You can help maintain your hard surface floors with sweeping and mopping but it takes more than this to remove embedded debris and prevent the finish from wearing out.  It takes professional floor cleaning services to ensure that your hard surface floors are thoroughly cleaned and refinished.  Contact Nu-Gen Cleaning & Restoration at (815) 733-9123 to schedule an appointment for our hard surface floor cleaning services in Elgin, IL.