ServiceMaster Restoration by Just in Time Services
[call](724) 320-1397[/call]
ServiceMaster Restoration by Just in Time Services has years of experience in providing quality water damage restoration for Connellsville, PA.  We are able to handle any scale loss as our live operators will ensure quick response to a disaster.  Water damage can be derived from many different sources such as pipe leaks, sump pump failures, or natural disasters. Therefore, a quick response is essential to prevent further damage to your home and belongings.  We provide many different services for water damage restoration that include:
Water Damage Restoration
Drying, Dehumidification, Water Extraction
Document Drying and Recovery
Complete Building and Contents Cleaning
Carpet, Rug and Upholstery Cleaning
Mold Remediation
HVAC Duct Cleaning
Antiques and Fine Art Restoration
Electronic Equipment Restoration
Data and Document Recovery
Furniture Refinishing
Biohazard Cleaning
Flood Cleanup
With this extensive list of services, you can assure your home will be returned to its original condition as soon as possible. We are available around the clock to provide excellent services quickly and efficiently. With advanced equipment, such as dehumidifiers, air movers, desiccants, air scrubbers, and truck mounted extraction equipment, our methods can be used to clean and restore your home in no time. However, insurance claims can be confusing, especially if it's your first time filing a claim. This is why we help you file, allowing the process to run smoother.
Water Damage Cleanup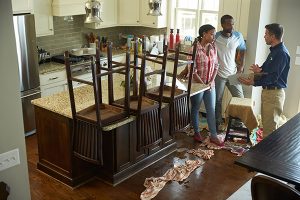 Many materials, such as wood, drywall, and furniture can absorb water rapidly, which in turn can cause significant damage quickly.  Starting the water damage cleanup as soon as possible is very important to prevent mold and mildew growth. ServiceMaster Restoration by Just in Time Services has the experience and expertise to help you when water damage occurs. Ensuring that excess water is handled quickly is the key to preventing additional damage to your delicate materials and irreplaceable items. We also have advanced equipment to ensure that proper drying and dehumidification are done to avoid further damages. Furthermore, our skilled technicians have undergone proper training to perform efficient content cleaning and pack-out services to remove your items from the property for professional cleaning. However, if the damage to your home is severe, we will store your belongings in our secure facility until the restoration is finished.
Water damage can happen at any time of the day. Therefore, if you experience water damage, regardless of size, time is crucial for the proper cleanup and prevention of further incidents. For all your water damage restoration and cleanup needs in Connellsville, PA, call ServiceMaster Restoration by Just in Time Services at (724)320-1397. Our emergency call center is prepared to handle your call 24 hours a day, 7 days a week, 365 days a year.