Read some of our testimonials below to hear more about what our clients say about ServiceMaster by Rice.
"Response time was quick. "— Bryant & Tamara Tjeerdsma
"I just wanted to say a big thank you to Jeff and his crew. I had a house fire on March 29th that left me homeless for over two months. They came in and removed my belongings, cleaned and stored them until my house was ready to move back in to. The ladies cleaned my house from top to bottom after it was restored. What a fantastic experience to see it sparkle after it was black with soot and smoke. Thank you, thank. Thank you! Jeff, you're amazing!" — Mary Prescott
"When you want it done right the first time!"— Daryl Diane Countryman
"ServiceMaster is an outstanding choice for disaster services and ServiceMaster by Rice,outstanding." — Sonja Lynn Vanderslui
"The service was amazing!! Prompt on time! Very clean! I can't say enough good things they did an awesome job!! Pity Jake is a Chelsea fan but that's my only negative." — Sarah Greenhalgh
"Words cannot express the excellent customer service I was given from the very beginning. I scheduled an appointment three times and cancelled twice because I was having difficulty in getting all of my things out and moved to my new condo. Leah and Marie could not have been more helpful. They are perfect, it's that simple. And the carpet looked fantastic. Will definitely sing your praises… customer service is a dying art. Thanks for making a difficult move end with a great experience. Happy holidays to each of you." — December 15, 2014  D.R
" Gary always does a very good job. Takes pride in what he is doing and always makes sure that I am happy with it before he leaves or tells me to call if any problems. And I like that you stand behind the work. If you are not happy or something isn't quite right you make it right. Merry Christmas" — December 24, 2014 M.B.
"Superior cleaning every time. Technicians listen to my carpet concerns. Technicians provide helpful feedback." — September 2, 2015 M.A.J.W.
"Promptness, care for the clients property, politeness in dealing with customers and an excellent staff" — Ashok Chawla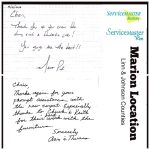 Contact us at (515) 212-2511 for a free quote today!
---
Recent Reviews
June 11, 2019
As of Monday it was a 10,as of today a 5. you have not quite finished what was told would be done. Our pool table was to be removed by you guys per Doug. Then once removed the remaining sub floor that it is on would be removed. This was to be done Tuesday 6/11. It is all still there as of this writing. Called Doug about this Tuesday morning and said would check with the Pool Table movers. Did he do this? Never once heard from any movers to arrange a time to be there. So makes me wonder if this would be completed if wasn't writing this here. Steve [LAST NAME REMOVED]
June 6, 2019
Our sump pump failed right before Memorial Day Weekend 2019 and flooded our basement with about 1-2 inches of water. American Family Insurance recommended that we call Service Master and one other company. We called both immediately; the other company never, ever called back!!! While Service Master could not come out immediately, when they finally did come out to survey our damage, their employees were professional, polite, respectful and thorough. A Project Manager was on site and made sure that our entire basement was checked. They immediately got to work and within several hours, we had fans throughout the basement. Eventually, they removed all the wet padding and carpeting, cut out the affected dry wall and removed the damp insulation. Their employees got rid of all the wet material. It took about a week but they did a great job. I would recommend Service Master in a heart beat!
Click here for more reviews