When homeowners want to select a style of floor that exemplifies a sense of prominence, they almost always select a nice hardwood floor. Not only do they come in a variety of styles and finishes, but they are durable and rather beautiful, as well. However, like every type of floor, hardwood floors are susceptible to general wear and tear over time. This is why ServiceMaster Cleaning & Restoration offers hardwood floor cleaning services to property owners in the Cartersville, GA.
Everyday use is the most common culprit for a faded look, and the results are generally in the form of some sort of minor damage, as well as dirt and debris buildup in the panels and wood grain. Our expert technicians are fully aware of this, and know just what to do to restore your hardwood floor to its original condition.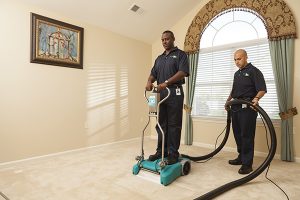 When you choose us here at ServiceMaster Cleaning & Restoration for our hardwood floor cleaning services, you can expect the following:
Prompt Response and Open Communication: Our representatives are available by phone 24 hours a day, and will get a team of technicians to your home as soon as possible. Throughout our cleaning and restoration process, we will keep you updated about our plans and progress.
Cleaning Between Panels and Wood Grains: Dust, dirt, and debris are notorious for finding their way into the worst spaces possible. For hardwood floors, this is between panels and within the wood grain. When this filth finds its way between panels, it can ruin the floor's adhesives, and cause the paneling to come apart. When it lodges within the wood grain, the surface of the floor itself is at risk for minor damage.
We utilize safe and effective cleaning products, methodologies, and equipment to efficiently remove dust, dirt, and debris buildup from between panels and within the wood grain.
Repair and Restoration: In the event of significant physical damage, such as warping or discoloration from excess moisture or spills, it is vital that you contact professionals as soon as possible. Like with anything that becomes damaged, letting it sit will only complicate the issue. Our technicians will repair or replace any damaged wood panels, and provide wood staining and refinishing services when necessary. At the end of the day, we will leave you with a fully restored hardwood floor that you can be proud of.
Final Inspection: We finish our work by performing a final evaluation to ensure that your hardwood floor is fully restored to its original condition.
Overall, when we are completed with our hardwood floor cleaning services, you will be left with a hardwood floor that has the following qualities:
A Significantly Improved Appearance
Greater Slip Resistance
Elimination of Minor Surface Damage (e.g. Scuff Marks and Scratches)
A Revitalized Finish
In order to take advantage of our hardwood floor cleaning services, contact our representatives at (770) 679-2299. We are available 24 hours a day to take your call, and are happy to answer any questions or concerns you may have. Here at ServiceMaster Cleaning & Restoration, we are proud to service homeowners in the greater Cartersville, GA, area.
Recent Reviews
Review by

S.R..
Rating

"You were quick and in contact with me in a short time frame to let me know that you would be helping me and on the way to arrive at around a certain time.
---
Review by

B.H.
Rating

" I was pleased with how much better the air smelled after ozone fans, cleaning, etc. People were friendly. I would use Service Master again. Thank you."
---
Review by

B.S.
Rating

"The tech was very knowledgeable and professional. They worked very quickly with little to no interruption wo our daily life. Very impressed with the Josh my service tech.."