Fires are a devastating disaster to have on your property. Even in relatively contained infernos, severe structural and aesthetic damage can be done to your home or business in little to no time at all. Once the fire is out, and everyone has been evacuated, we encourage you to contact us here at ServiceMaster Cleaning & Restoration to take advantage of our fire damage restoration services. We can help homes and businesses in the greater Cartersville, GA, area that have been affected by fires.
While it is obvious that the fire itself can, and often does, cause major damage to anything in its path, it is less obvious that the smoke, soot, and other chemicals released by the blaze can cause just as much damage. Our experts understand this, and know how airborne agents spread. We can help restore surfaces and materials damaged by smoke, soot, and other corrosive byproducts to prevent permanent damage.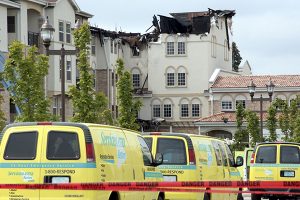 When you choose ServiceMaster Cleaning & Restoration for our fire damage restoration services, you can expect the following:
Swift Response and Open Communication: Our representatives are available 24 hours a day to take your call, and we will get a team out to your location as quickly as possible. Throughout our work, we will keep you updated on our progress.
Emergency Pre-Cleaning: One of the first things we do is secure the premises. Once this is done, we work to clean and restore structural elements of your property to ensure greater safety throughout the restoration process.
Content Cleaning: Oftentimes, a fire will damage your property and belongings in the forms of burns and scorch-marks, soot stains, and a smoky odor. Our experts track the spread of fire and soot, and work to restore any affected areas and items.
Content Pack-Out and Storage: In some scenarios, it is more practical for us to ship your damaged personal belongings to one of our facilities for cleaning and restoration. We also give you the option to store your belongings with us until your property is fully restored.
Wall, Flooring, and Ceiling Cleaning: We clean and restore all affected areas, and ensure that locations of high structural and aesthetic prominence, such as walls, floors, and ceilings, are cleaned and restored to the fullest extent possible.
Deodorization: The last thing you and your loved ones need after a fire is something to remember it by. This is why we take extra care to ensure that your property is fully and effectively deodorized.
As we stated before, damage from a fire is only the beginning of the problem. You must also be aware of resulting soot and smoke damage, as well as damage caused by other corrosive byproducts that form when synthetic materials are burned. Our technicians are aware of this and more, and understand on a deep level how these harmful agents spread.
If you have experienced a fire on your property, then we encourage you to give us a call at (770) 679-2299 as soon as it is put out. We are available 24 hours a day to take your call, and our experts will guide you through the entire fire, smoke, and soot restoration process. While we hope that you do not need to utilize this service, we would like you to know that we pride ourselves on providing excellent service and peace of mind to those in the Cartersville, GA, area.
Recent Reviews
Review by

S.R..
Rating

"You were quick and in contact with me in a short time frame to let me know that you would be helping me and on the way to arrive at around a certain time.
---
Review by

B.H.
Rating

" I was pleased with how much better the air smelled after ozone fans, cleaning, etc. People were friendly. I would use Service Master again. Thank you."
---
Review by

B.S.
Rating

"The tech was very knowledgeable and professional. They worked very quickly with little to no interruption wo our daily life. Very impressed with the Josh my service tech.."