We have all done it on one occasion or another. We regularly clean the most important areas of our home or office space, but conveniently forget the less noticeable locations. This can be fine for a while, but if it is done consistently, then you run the risk of allowing significant dirt and dust buildup, which could cause health concerns for those spending a good amount of time in close proximity. Furthermore, we understand that it can take a lot of time to thoroughly clean every nook and cranny of your living or working space. For these reasons and more, we offer one-time, deep cleaning services here at ServiceMaster Cleaning & Restoration to those in the Cartersville, GA, area.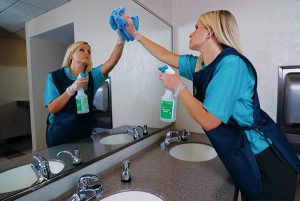 While there are major health benefits to living or working in a carefully cleaned space, there are aesthetic reasons, as well. If you are going to have visitors at your home, would you want them to see filthy baseboards and walls? The same logic applies to business owners. Would you want potential clients to notice the dirt and dust built up on your window ledges and light fixtures? This may sound trivial to some, but impressions are important, and we set specific expectations with you in order to fully address areas of concern without tampering with important items, files, or belongings.
When you choose to utilize our deep cleaning services here at ServiceMaster Cleaning & Restoration, you can expect the following:
Swift Response and Open Communication: We are available 24 hours a day to take your call, and will send a service team to your location as soon as possible. As we plan and perform our services, we will keep you updated, as well.
Initial Evaluation: We will send a representative to your location to set parameters and expectations for cleaning. This will include what areas should be cleaned, specific conditions to be aware of, and general preferences and priorities. This allows us to develop a detailed plan of attack, and gives our technicians a chance to determine what equipment will be necessary for the job.
Ceiling to Floor Cleaning: We will clean any and all areas of your home or business, from the ceiling to the floor. This includes dusting and cleaning of light fixtures, light switches, window sills, window glass, furniture, doors, trim, etc.
Vacuuming and Mopping: We will thoroughly vacuum and mop carpets and floors, as well as remove any stains that we find along the way.
Furniture Relocation: We remove large objects, such as furniture, from the area we are cleaning in order to ensure that you are receiving the greatest quality cleaning possible, even in traditionally hard to reach places.
State of the Art Cleaning Equipment: We utilize the most advanced cleaning products and equipment available in order to guarantee that your home or office space is free of dirt, dust, and debris.
Final Inspection: We perform a final check to ensure once more that all desired areas have been thoroughly cleaned, and restored to their original condition.
If your home or business is located in the Cartersville, GA, area, and is in need of deep cleaning services, then contact us here at ServiceMaster Cleaning & Restoration. Our representatives are available 24 hours a day to take your call, and are happy to answer any of your questions or concerns. We can be reached at (770) 679-2299 to schedule a deep cleaning appointment.
Recent Reviews
Review by

S.R..
Rating

"You were quick and in contact with me in a short time frame to let me know that you would be helping me and on the way to arrive at around a certain time.
---
Review by

B.H.
Rating

" I was pleased with how much better the air smelled after ozone fans, cleaning, etc. People were friendly. I would use Service Master again. Thank you."
---
Review by

B.S.
Rating

"The tech was very knowledgeable and professional. They worked very quickly with little to no interruption wo our daily life. Very impressed with the Josh my service tech.."