An unfortunate reality with owning property is that it is almost inevitable you will need to repair damage at some point in time. There are nearly endless reasons why this may occur, such as severe storms, flooding, fires, mold growth, and vandalism to name a few, but the result remains the same. You find yourself in a position where you need to act quickly to repair damage before it gets any worse. Here at ServiceMaster Cleaning & Restoration we do everything possible to ensure that your property in Cartersville, GA is both secured and restored to its original condition in a timely manner.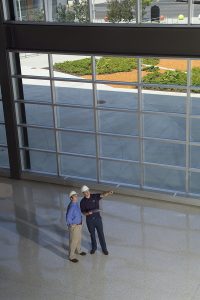 In critical situations, where your home or business is left in a state of heavy structural damage, we act fast to board up and stabilize affected structures. This reduces the chance that additional outside factors will cause further damage to your property, and provides a greater level of safety for all parties involved.
Our expert technicians are experienced in a range of reconstruction efforts. When you select us here at ServiceMaster Cleaning & Restoration for our construction services, you can expect the following:
Swift Response and Open Communication: In all cases of property damage, time is of the essence. This is why we can be reached by phone 24 hours a day, and will get a service team to your location as quickly as possible. Throughout our construction efforts, we will keep you informed as to our plans and progress.
Initial Evaluation: Our teams will first assess the situation in order to determine the necessary courses of action to both stabilize and restore your property.
Emergency Board Up and Stabilization Services: If your home or business is left exposed to the elements, or is structurally unstable, then we will act fast to board up and secure the premises.
Area Cleanup: If the site is left in a state of disarray by the event causing the damage, then we will work to clean up the area as we perform our construction services.
Reconstruction Services: Our teams of technicians are highly skilled in restoring a variety of structures, from homes and apartments to large commercial buildings. We work diligently to limit further interruptions to your livelihood.
There are many specific, smaller-scale services that we provide within our overall construction services. Some of these services consist of, but are not limited to, the following:
Permits and Licenses
Roof Repair and Replacement
Carpeting and Flooring
Carpentry and Framing
Plumbing
Remodeling
Window Treatments
Painting
Wallpaper Removal
Post Construction Cleaning
If you live in the Cartersville, GA, area, and disaster has struck, then we encourage you to call us right away to take advantage of our construction services. Here at ServiceMaster Cleaning & Restoration, we truly take your best interests to heart. No matter the severity of the damage, we will work to restore your property to its original condition. Please feel free to contact our representatives at (770) 679-2299 to learn more. We are available 24 hours a day for a prompt response.
Recent Reviews
Review by

S.R..
Rating

"You were quick and in contact with me in a short time frame to let me know that you would be helping me and on the way to arrive at around a certain time.
---
Review by

B.H.
Rating

" I was pleased with how much better the air smelled after ozone fans, cleaning, etc. People were friendly. I would use Service Master again. Thank you."
---
Review by

B.S.
Rating

"The tech was very knowledgeable and professional. They worked very quickly with little to no interruption wo our daily life. Very impressed with the Josh my service tech.."