Do you have holes or cracks in the bottom of your bathtub or shower?  If you do, this is a problem that must be addressed immediately because the water leaking through the holes and cracks could cause mold and mildew to grow underneath the shower or tub.  More serious structural problems can also result if the water is allowed to leak from the tub for a decent period of time.  Replacing damaged showers and tubs is an expensive hassle and RestorationMaster provides bathtub and shower inlays to repair the damage in Hilton Head, SC and the surrounding areas in eastern Georgia and southeast South Carolina.  Shower and bathtub inlays are a convenient alternative to complete replacement.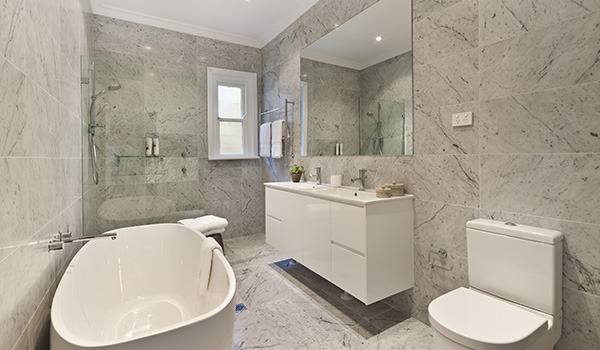 Bathtub Inlay Installation Process
The bathtub inlay installation process begins with an in-home consultation to take measurements of your tub or shower.  These measurements are then used to produce a fiberglass or acrylic inlay that will fit perfectly over your existing tub.  Once the inlay is ready, we return to your home to begin the installation.  First, we clean the entire surface of the bathtub or shower and apply an adhesive to hold the inlay in place.  Then we remove the fixtures, install the inlay in the tub or shower, and put the fixtures back on.  The edges of the bathtub inlay are then caulked to keep moisture from getting between the new inlay and the original surface.
Bathtub and shower inlay installation is often preferred over full replacement but this process can cost about as much as bathtub or shower replacement.  The advantages of bathtub inlays are in the convenience and speed of the installation.  A bathtub inlay can be installed in one afternoon and be ready for use the next day and the installation is not nearly as intensive as bathtub or shower replacement.  These bathtub inlays are also very durable and they are very easy to maintain.
If you notice a crack or hole in the bottom of your bathtub or shower but do not want to deal with the cost and hassles of a full replacement, call RestorationMaster for bathtub and shower inlay installation.  We provide in-home consultations and measurements for bathtub inlays in Hilton Head, SC as well as eastern Georgia and southeast South Carolina and we can install them in just one day.  Call to learn more about our shower and bathtub inlay options or to request a free estimate for this service.