The problem:
Seeing scratches and stains all over your bathroom sink first thing in the morning when washing your sleepy face isn't very pleasing to your senses or inspiring to your mind. But it is really difficult to properly maintain a fixture that is so frequently used and preserve its integrity and good looks for many years. Sinks wear out quickly and sustain various surface damages, such as chips and dents which make them look dull and decrepit. Faded or outdated colors also diminish the overall appeal of your bathroom design. Sink replacement, however, is a very expensive and troublesome process which hinders your daily activities as you don't have access to your sink for a considerable amount of time. Especially if the sink is part of a vanity, total replacement becomes very difficult and may even result in damages.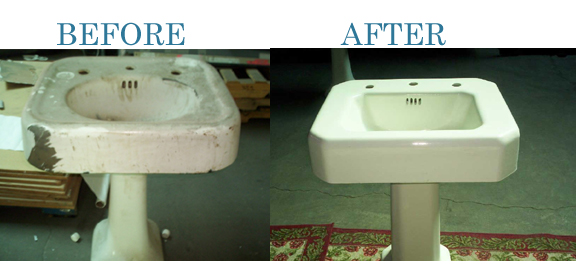 The solution:
If you want to improve the condition of your sinks in a speedy and affordable manner, without any hassle and inconveniences, Supertubs, LLC can offer an adequate solution. Sink refinishing takes only several hours and costs about half as much as sink replacement. What is more, you have the last word concerning the appearance of your sinks – our craftsmen can either restore the original color to its best look or refinish your sink in a stylish new color that reflects your personal preferences and perfectly matches the rest of your interior. You can choose from a great variety of popular colors and patterns to achieve an elegant appearance, or a cheerful look, or whatever impression you find enjoyable. The individual approach adopted by our craftsmen, their respect for your privacy and your property, as well as their skills guarantee that your specific sink refinishing preferences and requirements will be met with professionalism and perfection.
The process:
Supertubs, LLC professionals can refinish ceramic kitchen and bathroom sinks by remedying any imperfections and applying a beautiful finish that will last long if properly maintained. The entire surface of your sink is thoroughly cleaned, all the damages are competently repaired and a durable finish is added. The existing color is restored to its original good looks in the process but if you prefer to update the appearance of your sink, a new color of your choice can be applied instead. The working area in your home is kept neat and the job is done quickly and meticulously. Besides, we provide a warranty that is good for five years.
The benefits:
The sink refinishing process is very efficient and easily affordable. It adds up to 15 years to the life of your sinks and doesn't affect your daily routine. The unquestionable benefits of sink refinishing services make them the widely preferred choice when it comes to bathroom renovation projects. Supertubs, LLC is considered an expert in the area of bathroom restoration and refinishing services. Homeowners in New Cumberland, PA, and the nearby towns of central Pennsylvania, northern Maryland, and western New Jersey, where our sink refinishing services are available, will be delighted by the competent approach of our experienced professionals, the high quality of our work, and the astonishing final results. Call Supertubs, LLC to request a free estimate.