Having gorgeous marble or granite countertops in your kitchen or bathroom has become a symbol of prosperity and good taste. But even if yours are not so luxurious, well-maintained and stylish counter tops impart an elegant look and feel to your interior design and increase the value of your home. In addition to their delightful look, countertops contribute a great deal to the practical functionality of your kitchen or bathroom. They provide a convenient surface to work on, extremely useful for preparing food, arranging the dishes, storing various accessories and products, etc. The consistent use of countertops, however, as well as their proximity to water and heat sources, result in minor surface damages such as cuts, scratches, stains, and burns. Besides, the various signs of extensive wear and tear which grow in number with time can make your countertops look dated and tired. Especially if the original finish was not water- and stain-resistant or was not properly sealed, surface damages and stains are very likely to appear.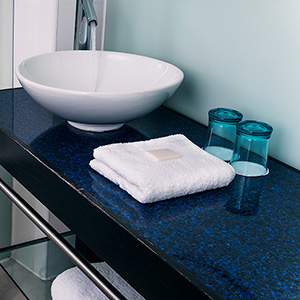 Replacing a worn countertop, however, is not advisable as the foundation is most likely fine and minor surface problems can be easily fixed with a professional refinishing process.
Supertubs, LLC offers countertop refinishing services for homes in New Cumberland, PA, as well as central Pennsylvania, northern Maryland, and western New Jersey. Problem areas are fixed and a new low maintenance, semi-gloss topcoat is applied. Our countertop refinishing process is appropriate for most types of laminate and natural stone countertops which are safely revitalized in a quick and affordable manner. All the surface damages are repaired using professional equipment and contemporary restoration methods. A durable topcoat is then applied to crown our work with perfection. A variety of trendy colors and interesting patterns are available for you to choose from, as well as a "faux" granite topcoat which looks great in any kitchen. The resulting finish has both aesthetic and practical value. It is easy to maintain and can last between 10 and 15 years. Our craftsmen are ready to give you some proven tips on how to take better care of your countertop and maintain it properly.
Among the numerous benefits of countertop refinishing, the low cost and the short period required for the completion of the process are the most conspicuous ones. Countertop refinishing costs about 50 percent less than replacement and the resulting finish is so durable and appealing that it can be easily mistaken for a brand new one. Our artistic refinishing techniques and trendy colors result in a completely restored countertop which is not only as sturdy and convenient as a new one but also very fashionable and attractive. What is more, your counter will be ready for use between 24 and 36 hours after refinishing while total replacement can put your kitchen out of use for a couple of weeks.
If you want to get rid of persistent stains and annoying scratches, or if you don't like the outdated or faded colors of your countertops, you can have them refinished. The integrity of your countertops will be restored and their look will be greatly enhanced without the bothersome hassle and high costs associated with replacement. Call Supertubs, LLC to have your countertops professionally refinished at a reasonable price.