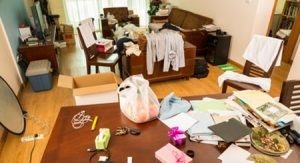 Hoarding isn't as simple as being lazy or being unwilling to do housework. It's a complex mental condition with roots in anxiety. Hoarders collect items, often worthless ones like old mail or magazines, and clutter accumulates because they're unable to dispose of anything for reasons they themselves might not be able to understand. As the clutter accumulates, it decreases access to parts of the home and increases the risk of fire. Over time, conditions become unsanitary and mold and bacteria begin to grow, jeopardizing the health of anyone living in the home. It's important to take the right approach to restoring order and cleanliness to a hoarder's home for the health and safety of everyone living there.
ServiceMaster of Baltimore takes a caring, compassionate approach to cleaning and restoring the homes of hoarders in Annapolis, MD. Our experts have training and equipment to remove clutter and sanitize the home, all while treating the residents with dignity and respect. We work with the hoarder to sort through items and determine what can be kept and what should be discarded or donated.
Starting the Process
Usually the cleaning process isn't initialized by the hoarder, out of embarrassment at the state of the home, or because they don't realize there's a problem. It usually falls to a family member or close friend to stage a sort of "intervention" and urge the hoarder to seek help. It's important to remember that this person isn't lazy or disorganized; hoarding is a byproduct of anxiety and depression, so talking with the person requires a gentle approach. Once they understand the conditions in the home are physically dangerous and agree to seek cleanup help, call the professionals at ServiceMaster of Baltimore.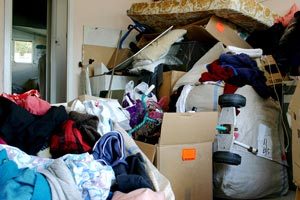 We understand this is an unusual situation and we've seen many cases over the years. We can provide large-scale hoarding cleaning services and we involve the individual in the process as much as possible. We keep in mind at all times that we're in a person's home, clearing and cleaning their possessions. We don't come in with shovels and trash bags, tossing out everything in sight. We take a compassionate approach and absolutely nothing is removed from the home without the owner's consent.
ServiceMaster of Baltimore's Comprehensive Hoarding Cleaning Includes:
Connecting with the hoarder to build a relationship;
Creating a customized cleaning and remediation plan;
Removing any unwanted items;
Distributing items marked for donation, recycling, or to give to family/friends;
Moving large items like furniture and appliances;
Cleaning and sanitizing the entire home so it's safe to inhabit again.
Hoarding is a difficult situation for everyone involved, but it will only get worse as time goes by. If you're facing a hoarding situation in your family or with a friend in Annapolis, MD, call the caring professionals at ServiceMaster of Baltimore. We'll work with you and the individual to create a decluttering and cleaning plan that will return the home to a safe, clean, and sanitary state. We use state-of-the-art cleaning products and equipment that safely and effectively clean and restore items and we treat the individual with compassion and respect. Call us at (410) 690-7508 to learn more about our comprehensive hoarding cleaning.
---
Related Hoarding Cleaning Services