When a major disaster strikes a home, the damage usually goes beyond structural damage to the home itself to include personal belongings as well. The damage of personal belongings can add a layer of complication to the claims process as the nature and value of this content can differ widely from case to case. Professionals that provide pack-out restoration services use the latest technology to track, restore, and store damaged belongings and having an understanding of how this process works can greatly help insurance agents provide better assistance to their policyholders after a disaster. ServiceMaster NCR offers CE classes for pack-out claims in Alexandria, VA to educate insurance agents and adjusters on the process used for pack-out claims.
Pack-out Claims CE Classes for Alexandria, VA
It is one thing to sustain structural damage to a home but when personal items that mayhave monetary and sentimental value to the homeowner are damaged, it can really be stressful for the homeowner. Many people may feel overwhelmed in this situation with no idea of what to do about their damaged personal items. In this CE class, we will cover the entire process in which personal property is managed, tracked, transported, and restored as well as the technology used to evaluate, track, and restore personal items. It is imp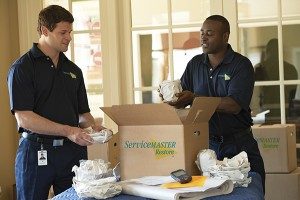 ortant for insurance agents to have a good understanding of this process to help ease the stress of the homeowner by explaining exactly how their belongings will be packed out and restored.
The tracking methods that are used by restoration professionals are highly accurate and will help ensure the security of your policyholder's personal belongings. This class will help you appreciate the tracking methods used in these situations and better explain the process to your policyholders to restore their peace of mind about the fate of their belongings.
Insurance agents and adjusters in the Alexandria, VA area who are interested in attending ServiceMaster NCR's CE class for pack-out claims can register on this page or by calling (703) 596-3171. This class is good for 3 hours of state approved CE credits and registration is free. The space for these classes is limited so make sure you register early.
April 18, 2020
D'mario Headen-Vance
WASHINGTON, DC
April 11, 2020
Zelda Cook
Gainesville, VA