Hoarding is an issue that is getting more widespread attention and the nature of the disorder is becoming much better understood which is leading to more effective help for those that struggle with hoarding. Hoarding is a mental disorder and though the behaviors from hoarding lead to property damage, it is important for insurance agents dealing with the damage to never lose sight of the fact that those that hoard are suffering from a mental disorder. This means that insurance agents and adjusters must understand how to work with a policyholder that hoards as well as how to best clean and restore the home. ServiceMaster NCR offers CE classes for hoarding to insurance agents and adjusters in Alexandria, VA to help educate insurance agents on the best methods for handling hoarders and losses from hoarding.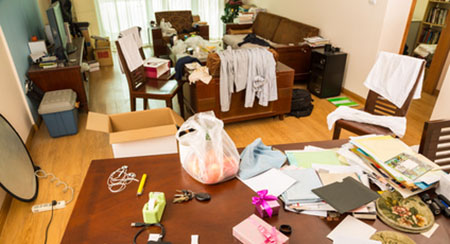 Hoarding CE Classes in Alexandria, VA for Insurance Agents and Adjuster
Dealing with the effects of hoarding can be challenging and it is important for insurance agents and adjusters to know how to approach the individual and best clean up and restore the home. Just earning the trust of an individual that struggles with hoarding disorders is challenging enough and must be done before any of the restoration work can begin. The purpose of this class is to help insurance agents identify hoarders and better understand how hoarders think and act as well as how to best handle the losses that result from hoarding behaviors. We will also cover any concerns over insurance claims and losses when hoarding is involved.
Because hoarding behaviors are the result of a mental disorder, the damage caused by hoarding cannot be treated the same as other types of damage. The individual must choose to clean up the home and it usually takes the intervention of a friend or family member to initiate the cleaning. Once the individual decides to clean up their home, the insurance agent can then assist with the loss claims and hiring a professional to provide hoarding cleaning services.
Hoarding is attracting much more attention lately which means that you could be assisting more policyholders that have struggled with hoarding. Knowing how to deal with the individuals that hoard as well as how to repair and restore the home can help you better assist policyholders who are ready to clean out their homes. Insurance agents and adjusters in Alexandria, VA who are interested in attending this class can register on this page or call (703) 596-3171 to sign up. This class is free to attend but space is limited.
April 18, 2020
D'mario Headen-Vance
WASHINGTON, DC
April 11, 2020
Zelda Cook
Gainesville, VA