Regardless of how big a house fire is, the damage that it causes can be extensive because the flames char everything it touches and the smoke and soot can cause further damage, even after the fire is put out. House fires also cause dangerous chemical emissions and fumes from burning certain synthetic materials which can lead to even more damage and health problems. It is important for insurance agents and adjusters who help homeowners in cases of house fires to understand the potential damage a fire can cause as well as the process for fire damage restoration. ServiceMaster NCR provides CE classes for smoke and odor damage in Alexandria, VA to educate local insurance agents on our process for smoke and odor damage and how to mitigate the damage after it occurs.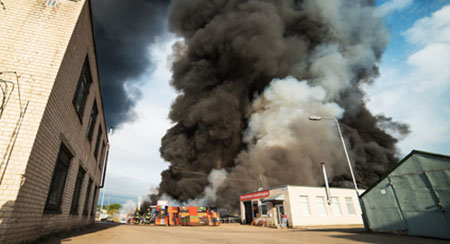 Smoke and Odor Damage Mitigation CE Class in Alexandria, VA
Everyone knows the type of damage a fire can cause but most homeowners do not have an understanding of how damage can occur after the fire is out through chemical vapors and gases. Household surfaces such as chrome, porcelain, aluminum, and marble can be damaged by these materials after a fire and the longer the restoration services are held off, the higher the cost will be for your policyholders because the damage will become much worse. The purpose of our smoke and odor damage restoration services is to prevent further loss and it is important for you to understand what these services entail so that you can better serve your policyholders in such a stressful situation.
It is very important to make sure your insureds call for smoke and odor damage mitigation within 24 hours of the fire being extinguished to help save costs on the repairs and insurance claims. Smoke and odor damage mitigation services are designed to stabilize and repair the existing damage while preventing further losses which will result in a lower cost for restoration and insurance claims, better loss ratios, and happier policyholders.
Any insurance agents or adjusters that work in Alexandria, VA and would like to attend our CE class for smoke and odor damage mitigation, can call (703) 596-3171 for more information or register directly on this page. This class is free of charge and good for 3 hours of state approved credit but space is limited so register early.
April 18, 2020
D'mario Headen-Vance
WASHINGTON, DC
April 11, 2020
Zelda Cook
Gainesville, VA