Upcoming Events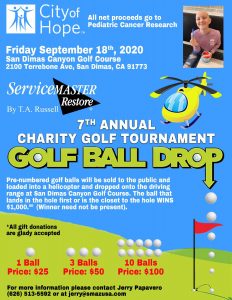 This year's charity golf tournament will be held on Friday, September 18, 2020 at San Dimas Canyon Golf Course (2100 Terrebonne Ave, San Dimas, CA 91773).  Any interested sponsors or golfers should contact Jerry Papavero at: Jerry.papavero@smazusa.com, (cell) 626-513-5592 , or (office) 626-963-4048 ext. 103.
---
Recent Reviews
Review by

Grady Ramsey
for
Disaster Restoration
Rating

"This is a great company! We had a bad water break in our house while we were out for hours. Called our insurance co Farmers. They sent Service Masters out to clean the water and the mess up. Justin Mason and Shawn Beck showed up, Totally great people and hard workers. Smart and professional people and company! Every move they made was for us and they asked if this is good enough or what else can we do for you. Fantastic!!!!"
---
Review by

Rudy Rios.
for
Disaster Restoration
Rating

"The professionals at Service Master of ABQ west Mesa are probably one of the few companies around today that are "True Professionals".Stellar communication, honest staff and employees, and always on time delivery.Not only was Jesse, the manager, always courteous and well spoken, he made every attempt to satisfy our needs on a mold remediation of a commercial job I am doing.I can recommend this Service Master to do more than you would ever expect."