Hoarding disorder is something that many people in the U.S. struggle with and much has been learned about this disorder which has greatly improved the quality of professional hoarding cleaning services.  It still normally takes a friend or family member to intervene and start the cleaning process before the conditions within the home become dangerous.  Those that struggle with hoarding collect any objects including newspapers, food containers, trash, and animals in extreme cases and they develop a complete inability to dispose of anything, allowing the hoard to build.
The collection of hoarded items can have serious implications as the hoard can restrict access within the home, increase the risk of a fire, and harbor a buildup of odor, bacteria, or mold that can affect the health of those within the home.  Hoarding cleanup must be handled delicately and with compassion as the affected individual has developed a personal attachment to their hoarded items.
Hoarding Cleanup from Aftermath Services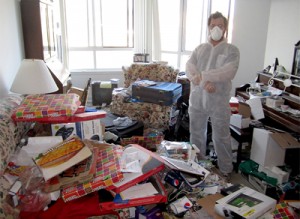 The technicians of Aftermath Services are trained and equipped to provide hoarding cleanup services to Newark, NJ.  We will remove all hoarded items from the home and restore safe living conditions by cleaning, sanitizing, and deodorizing the affected area.  We are also equipped with specialized cleaning equipment and protective gear to handle any biohazard materials we come across including bacteria growth, decomposing animals, and bodily fluids.
Aftermath Services has the proper licensing and certification to provide hoarding cleaning services and each of our technicians are bonded and insured.  We complete every hoarding cleaning project within the rules and regulations the EPA, OSHA, and the Department of Transportation.  You can expect the following process from our hoarding cleaning services:
Decontamination: We will remove all biohazard materials and decontaminate the affected area.
Deodorization: We remove strong odors with powerful deodorizers.
Proper Disposal: We can help sort through the hoarded items and keep valuable objects as well as dispose of all unwanted objects and biohazard materials at a licensed facility.
If you have a friend or family member in the Newark, NJ area that struggles with hoarding, you can call us anytime at (888) 696-7999 to learn more about our hoarding cleaning services.